Week 168: The season comes to a close
Season three comes to an end as we complete the bimini project, return to Greece and settle in to life at Mytilene, Lesvos.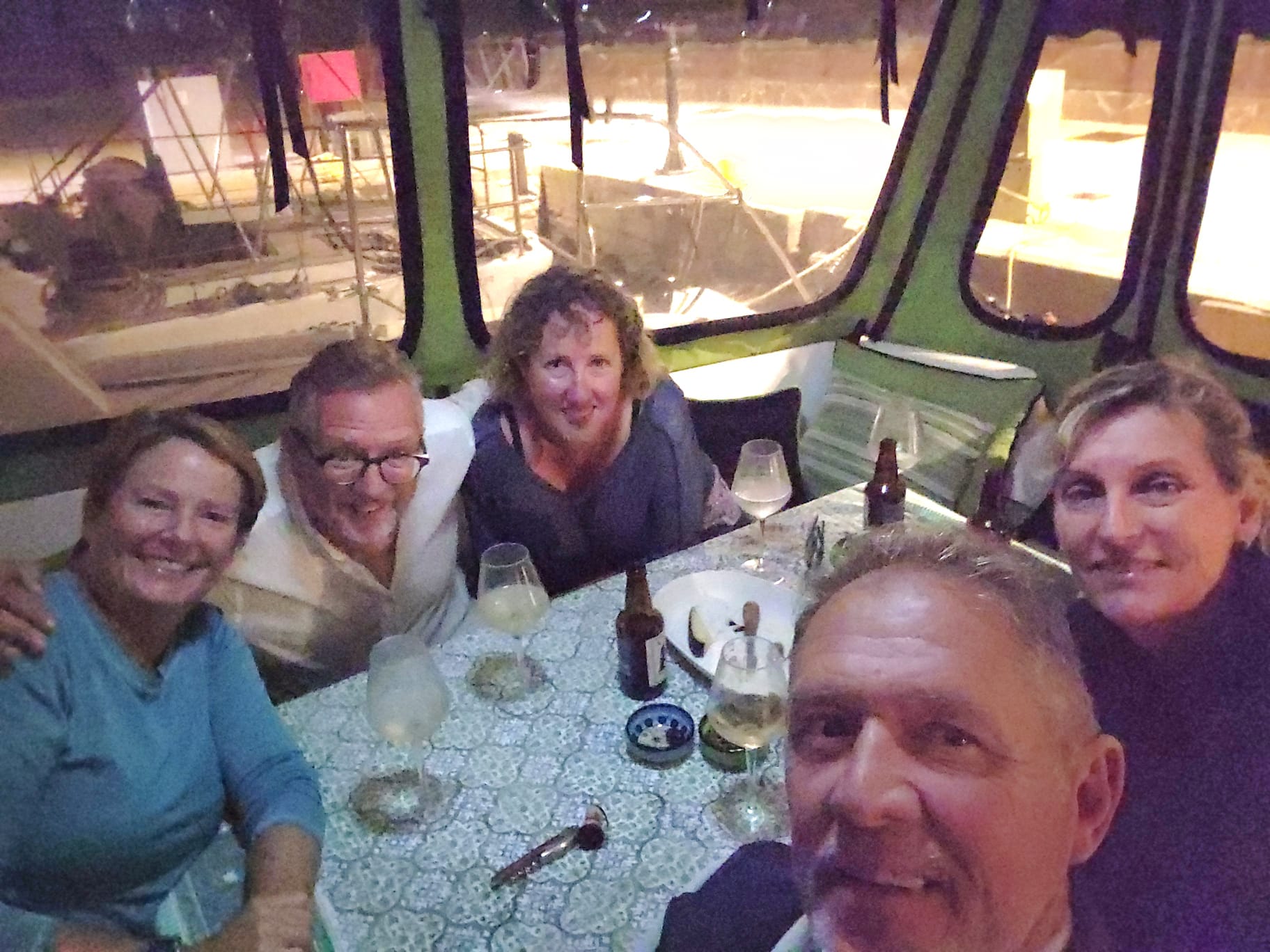 It's only taken us three years, but I think we finally timed the end of a season just right! As I sit here writing, there's a strong southerly blowing a gale outside with lightning strikes, and the boat is moving around. But we don't care! We're safely tucked up in our winter berth, season three now at an end. Our first year, we went too late. Last year, we finished way too early and now, this year, it's just right.
The start of the week continued like the last, basically waiting for the canvas work to be completed. While Zafer worked incredibly hard, the work took longer than estimated, so we ended up staying at Kusadasi Marina until Tuesday morning. We're incredibly happy with the upgrades, and Matilda is looking sensational with her new canvas, and with all the patches and repairs, she feels like an almost-new boat.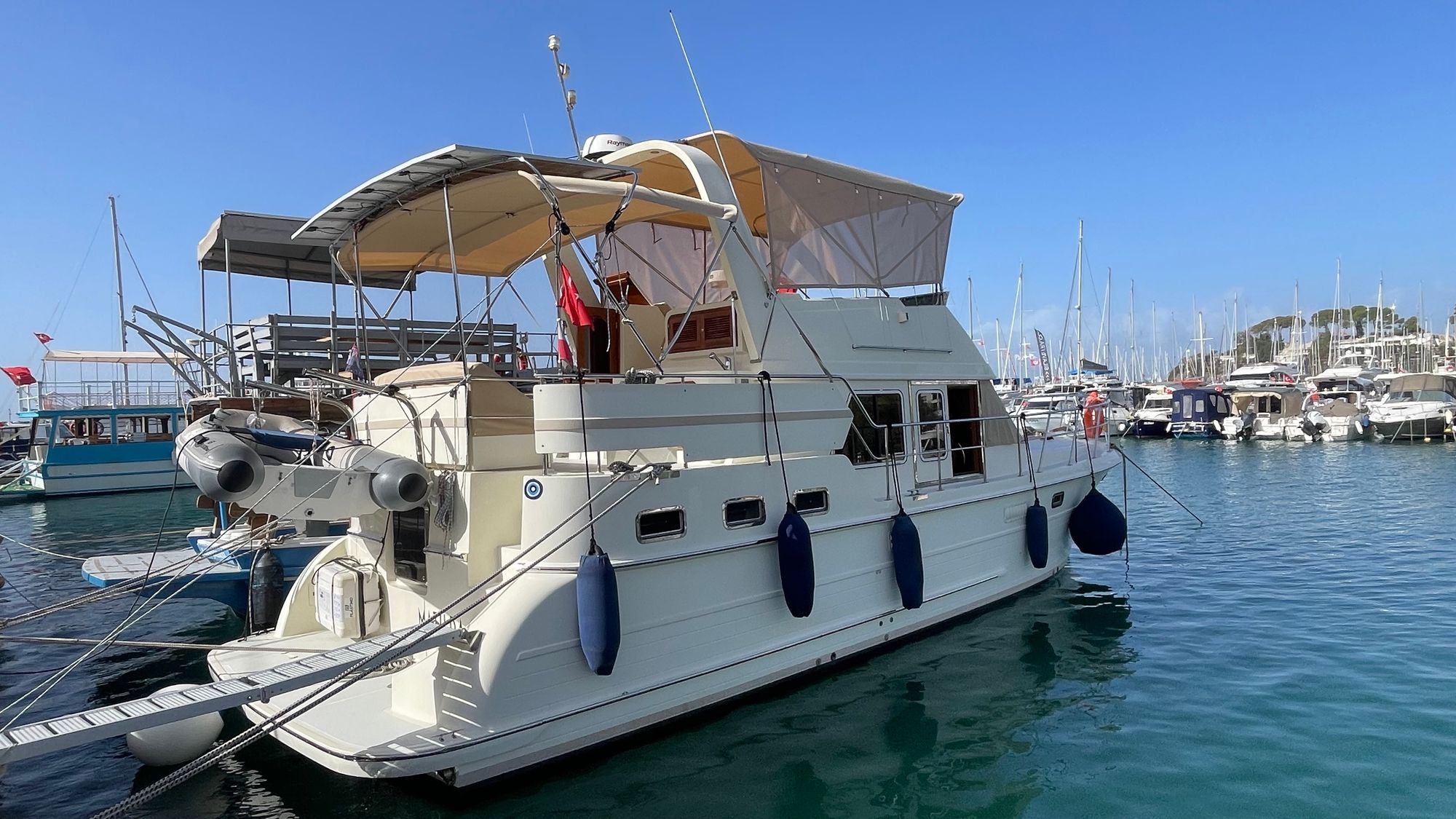 We were happy to leave on Tuesday, however. After a month of treading water in the same area, we were itching to leave and get back to Mytilene and our friends, who were all arriving too.
The checkout in Türkiye was very civilized. We paid an agent, and he made the process smooth and simple for us. It was amusing that while we were checking out, he purchased duty-free cigarettes (presumably in our name), but the service was great, so we don't begrudge him. There was a minor hiccup, which is that my visa wasn't in the system (because I stupidly forgot to apply before we arrived), and they wanted to know how I got into Türkiye. Fortunately, the stamps in my passport were sufficient (they were issued manually when we entered for an additional fee).
Then we filled with fuel, and headed off to Samos. It's always prudent when you're checking the boat in and out of countries to leave plenty of time, so we felt the short 2-hour hop to Samos was perfect - it gave us plenty of time to deal with the processes on the Greek end.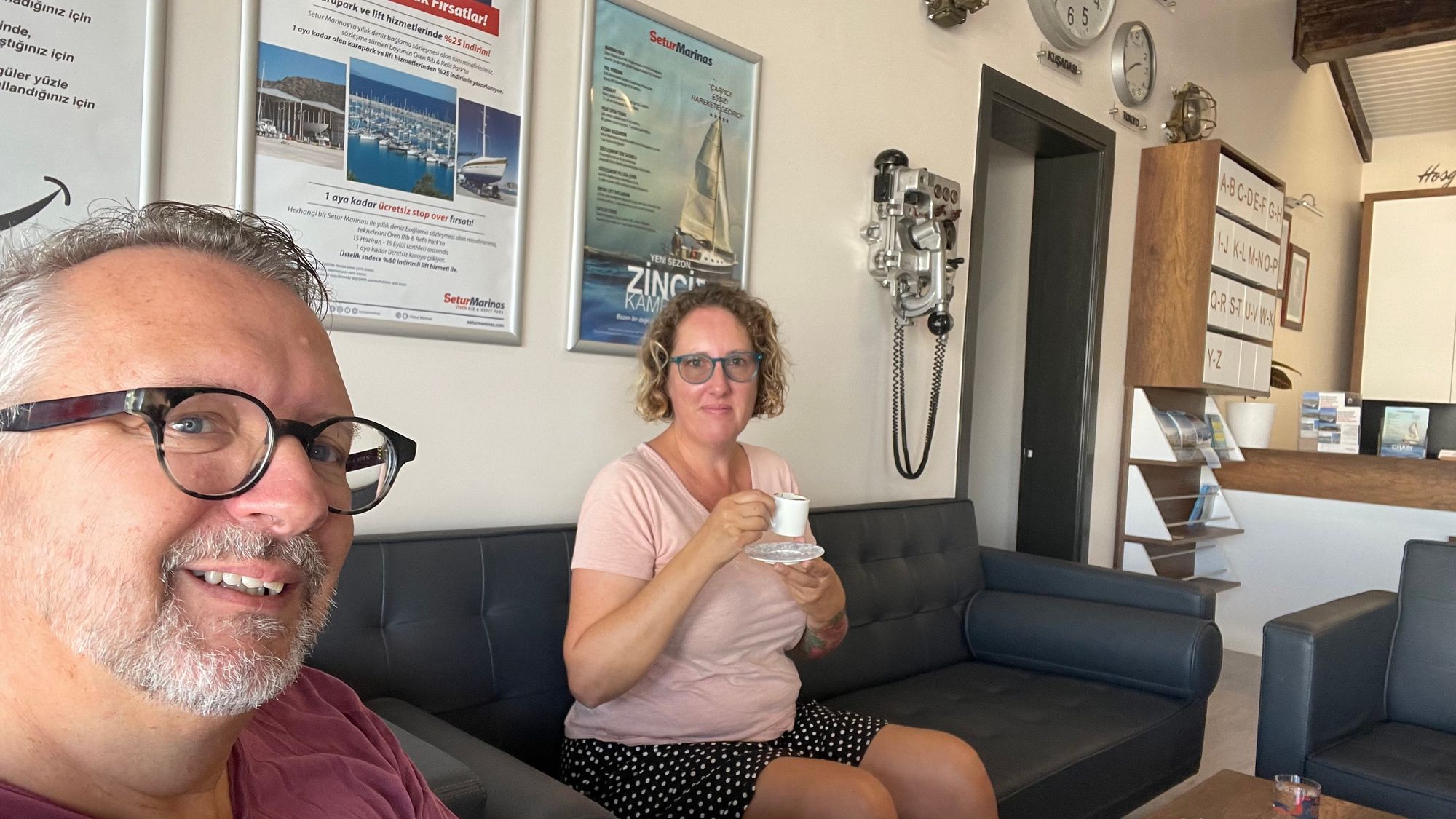 We ran into another minor delay, which was needing to prove the VAT paid status of Matilda, but fortunately, while we've never had to do it before, our lawyer had ensured we had the right documents ready to go. After some grumbling, the customs lady was finally satisfied that everything was in order and we were checked in. Some of the objections were laughable:
"The boat name is not on this document! How can I know that the VAT was paid on this boat 'Matilda'?" She challenged us.
"Yes, that's right. That's the original invoice from when the previous owners bought it. The boat wasn't named then."
"Well, how can I know it's the same boat?"
"See that number? That's the serial number of the boat; you can see it listed here, on this document and again here on our Polish registration. If you like, I can show it to you stamped into the hull of the boat, too."
"Hmmph."
Sometimes, in Greece, you have to know when to sit back and just let the process unfold, and other times, you've got to be prepared to push a bit.
It was exciting to check back into Greece. We really do love being here. Although we complain and get excited when we go somewhere new, the reality is that the food is generally excellent. After two months in a Muslim country pork-free, we were excited to be somewhere we could readily get bacon again!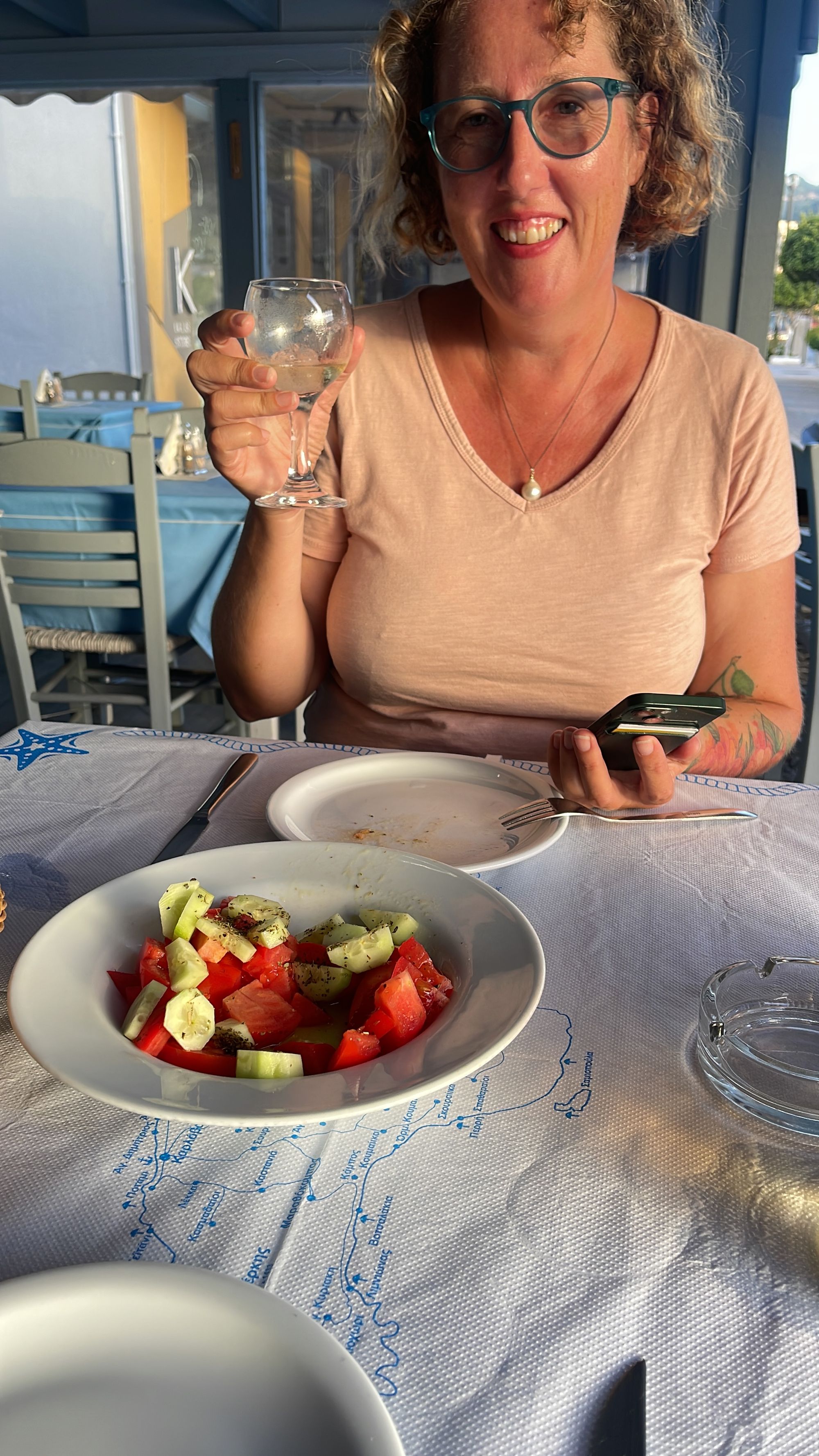 We ate out in Samos at one of the few restaurants still open this late in the season and enjoyed a mixed grill that had generous portions of pork gyros and pork souvlaki. Yum!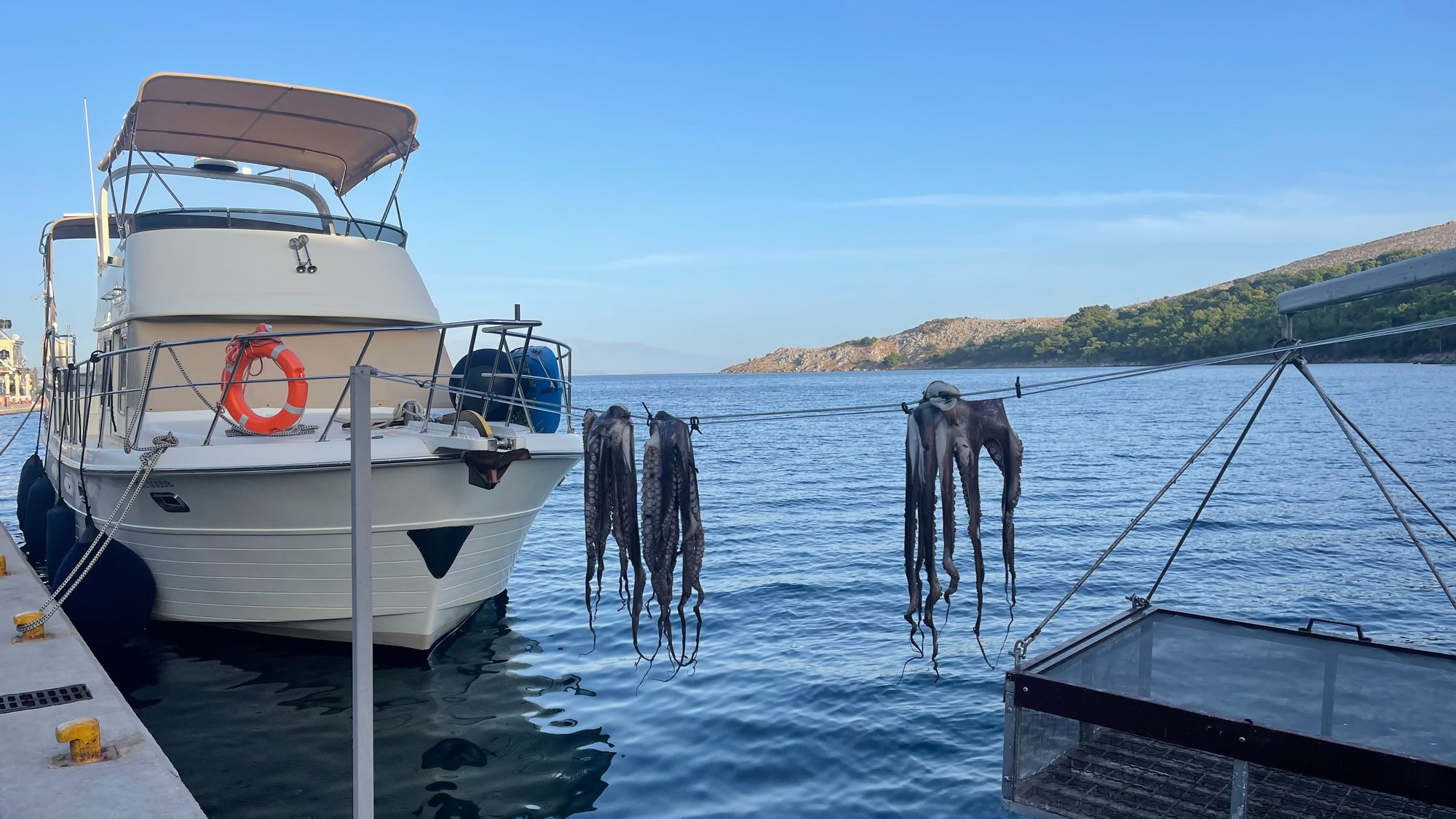 Then, it was up early to leave Samos in the dark and cruise to Chios. It was a beautiful day, perfect for the penultimate cruising day. The sun was shining, the sea was calm, and we made great time. It got a little rough in the last hour or so, but that just made pulling into the small town of Lagkada all the more satisfying. We loved the stone buildings everywhere, the octopus drying in the sun next to the quay, and it was all very beautiful. We also had another fantastic meal and, always a treat, were able to pull up alongside on the quay – it's the easiest, fastest way to dock.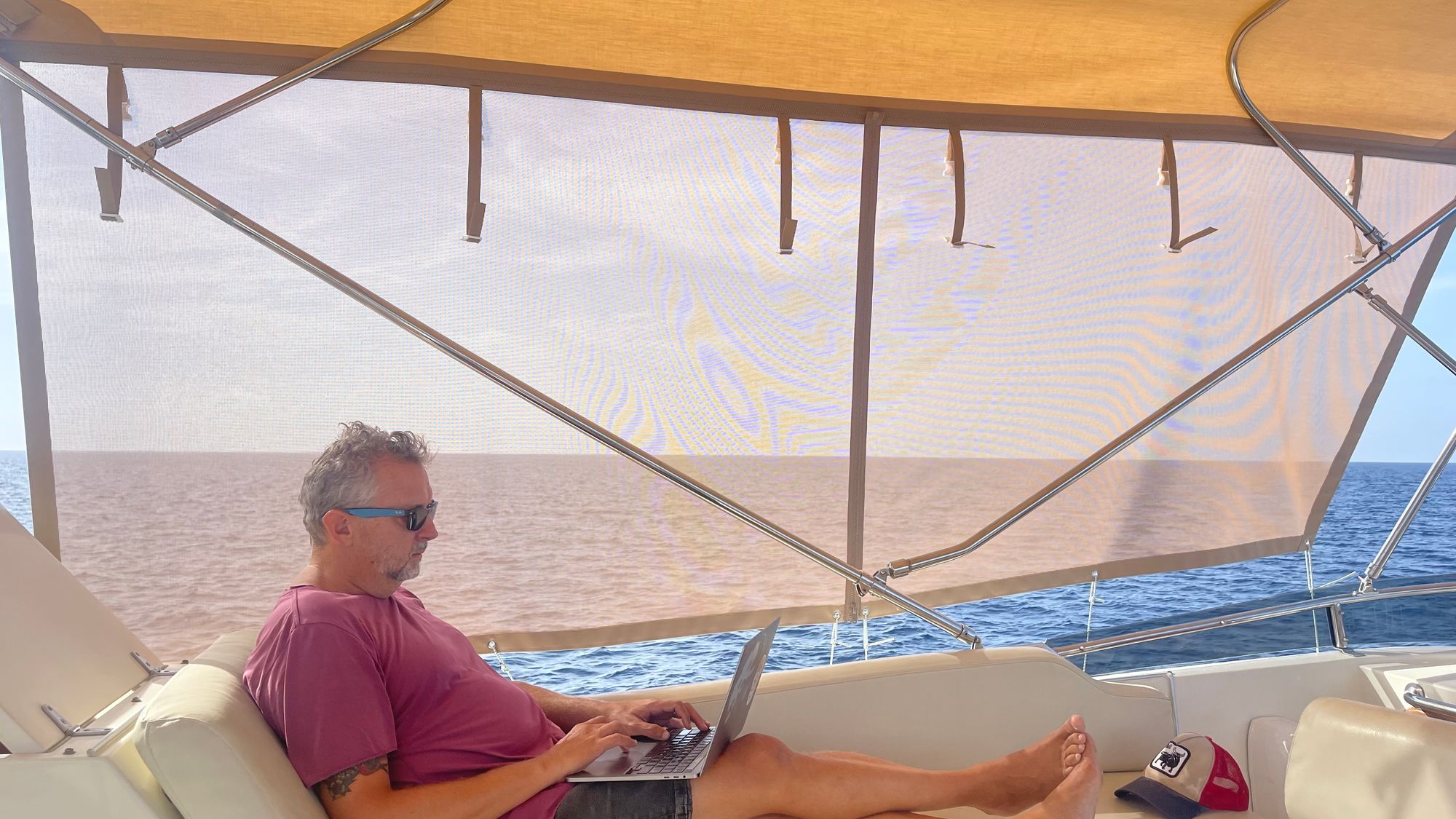 Thursday it was the last leg up to Lesvos and Mytilene Marina for our winter berth. This crossing was quite a bit rougher, with rain and a thunderstorm. Nothing too scary, but I felt it was good to finish with a reminder of WHY we're ending the season! It would be a shame to berth up while the sun is shining. Instead, we felt we'd made the right choice.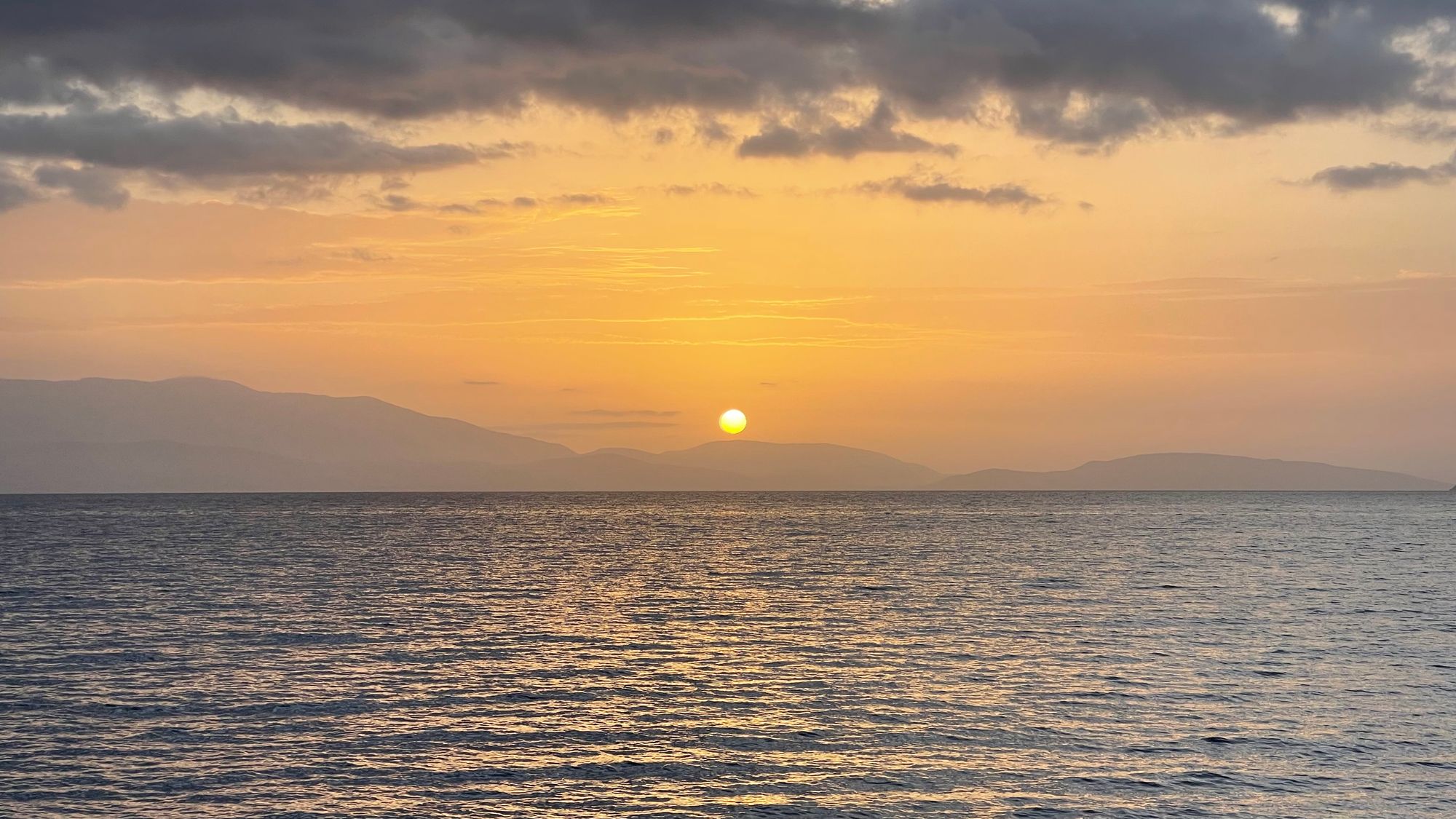 Pulling into the marina was fun. There are several others here we know from Porto Montenegro and that we've met underway during the season, too. Mike and Linda on Jabulani II have already headed home to Australia, but Sarah and Peter on Flying Fish and Sandy and Seamus on Cooinda were standing at the dock as we pulled into our berth.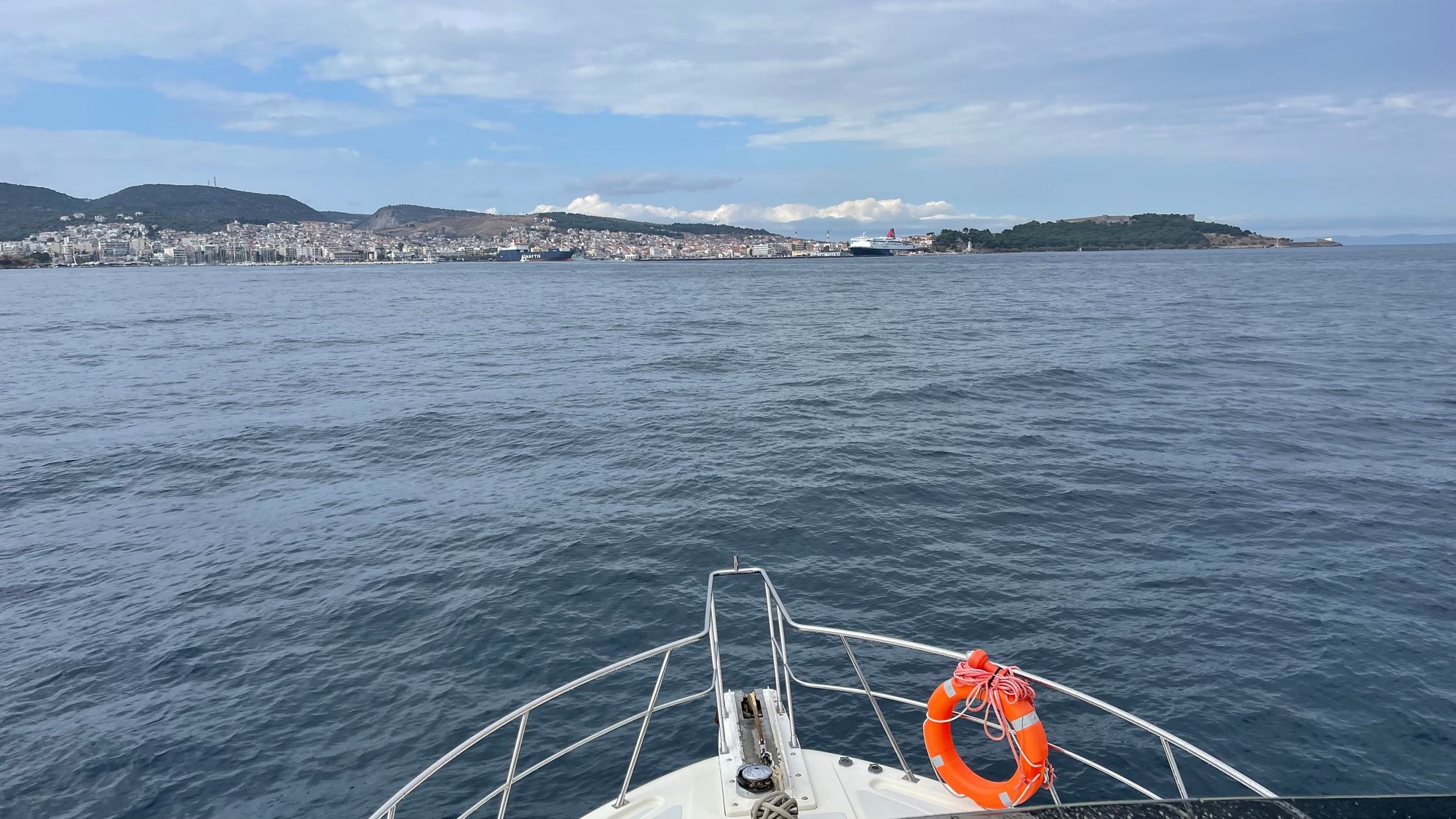 Now I think about it, Sarah and Peter were there for the start too, cheering and waving us on as we left Porto Montenegro with one throttle control reversed, screaming at each other, and again, now at the end, watching us docking like pros, gently and calmly without a care in the world.
Of course, a catch-up was necessary, so we headed over to Flying Fish for drinks and snacks and had a great old time chatting about everything we've all experienced and sharing news of our other friends and what they are doing.
We also had a lot of packages that had been building up to collect. There was some debate between us as to whether it should be a shower first or opening the packages. Opening the packages (Karina's vote) won!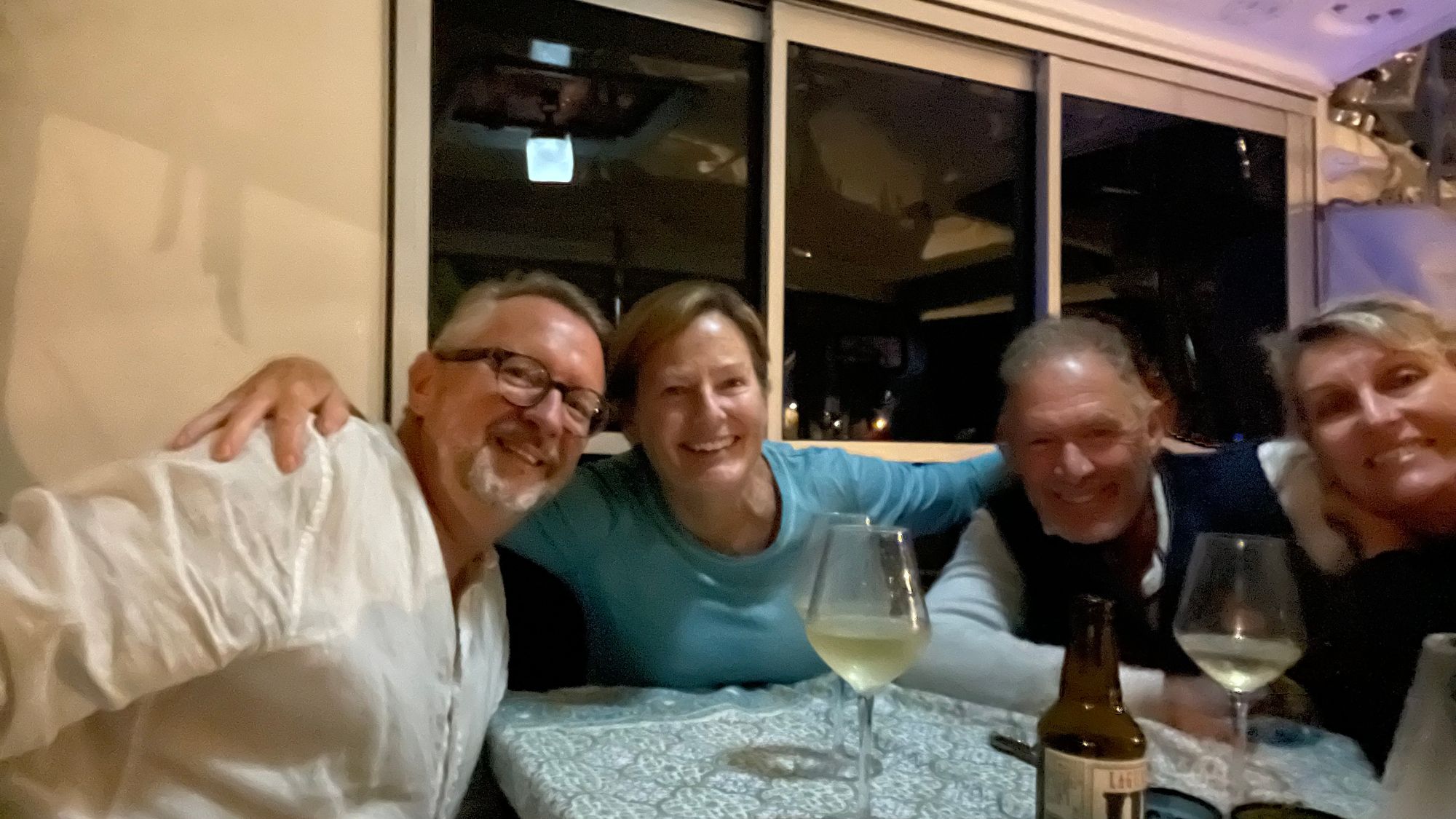 Friday Karina was out walking with Sandy and Sarah. I fitted our new anchor, and we did a LOT of washing.
On Saturday we had our first big winds - gusts of up to 50 knots. The boat was fine, the new Bimini held up well in the wind (although as it started to gust over 30 I took it down) but we did get pushed sideways and damaged the passerelle which is still usable, but will need replacing before next season 😖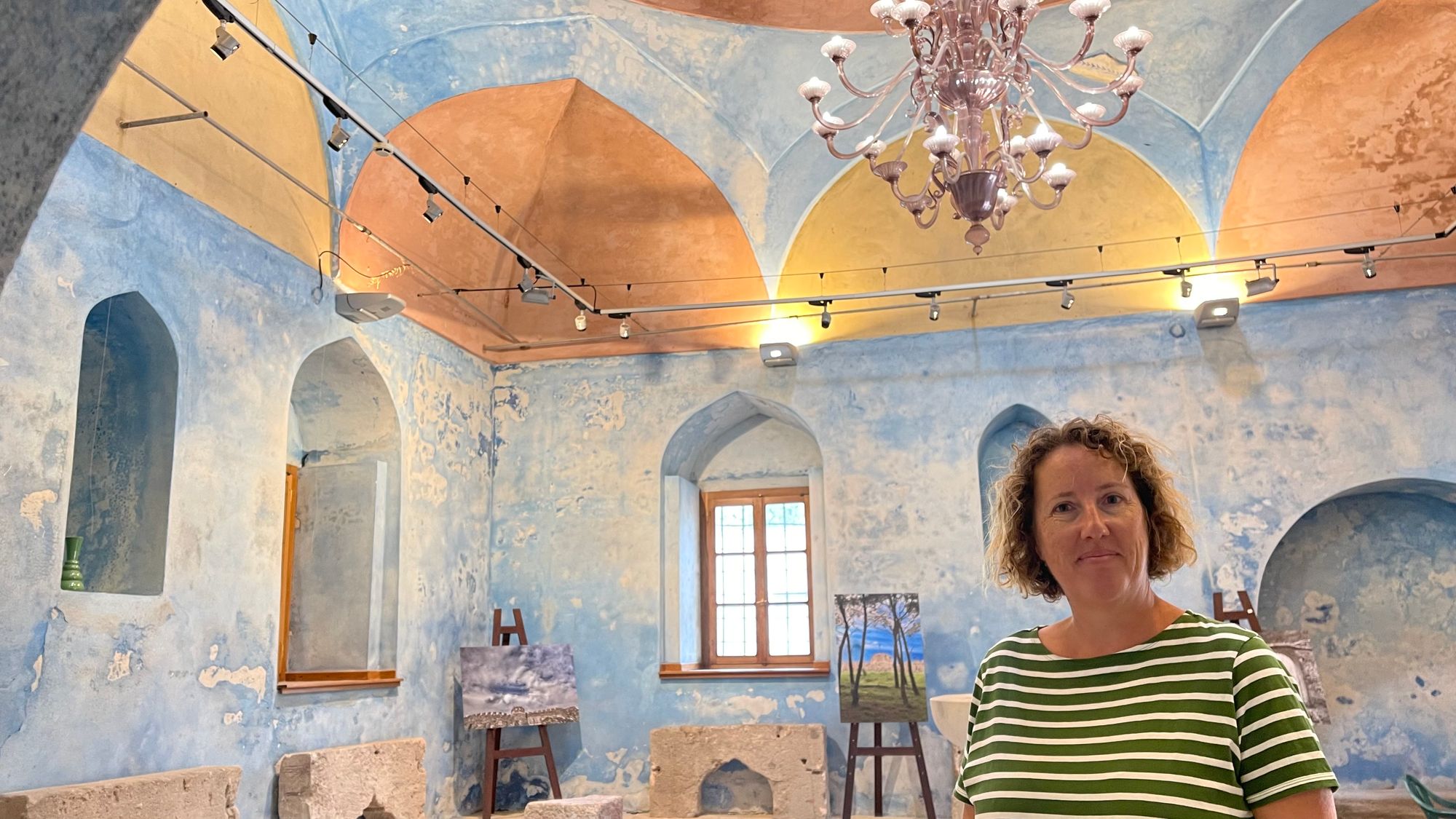 We also stretched our legs and wandered into the old Muslim market quarter of Mytilene to visit some Turkish Baths, then went to the movies to watch "Killers of the Flower Moon"; the Martin Scorcese/Leonardo Di Caprio epic.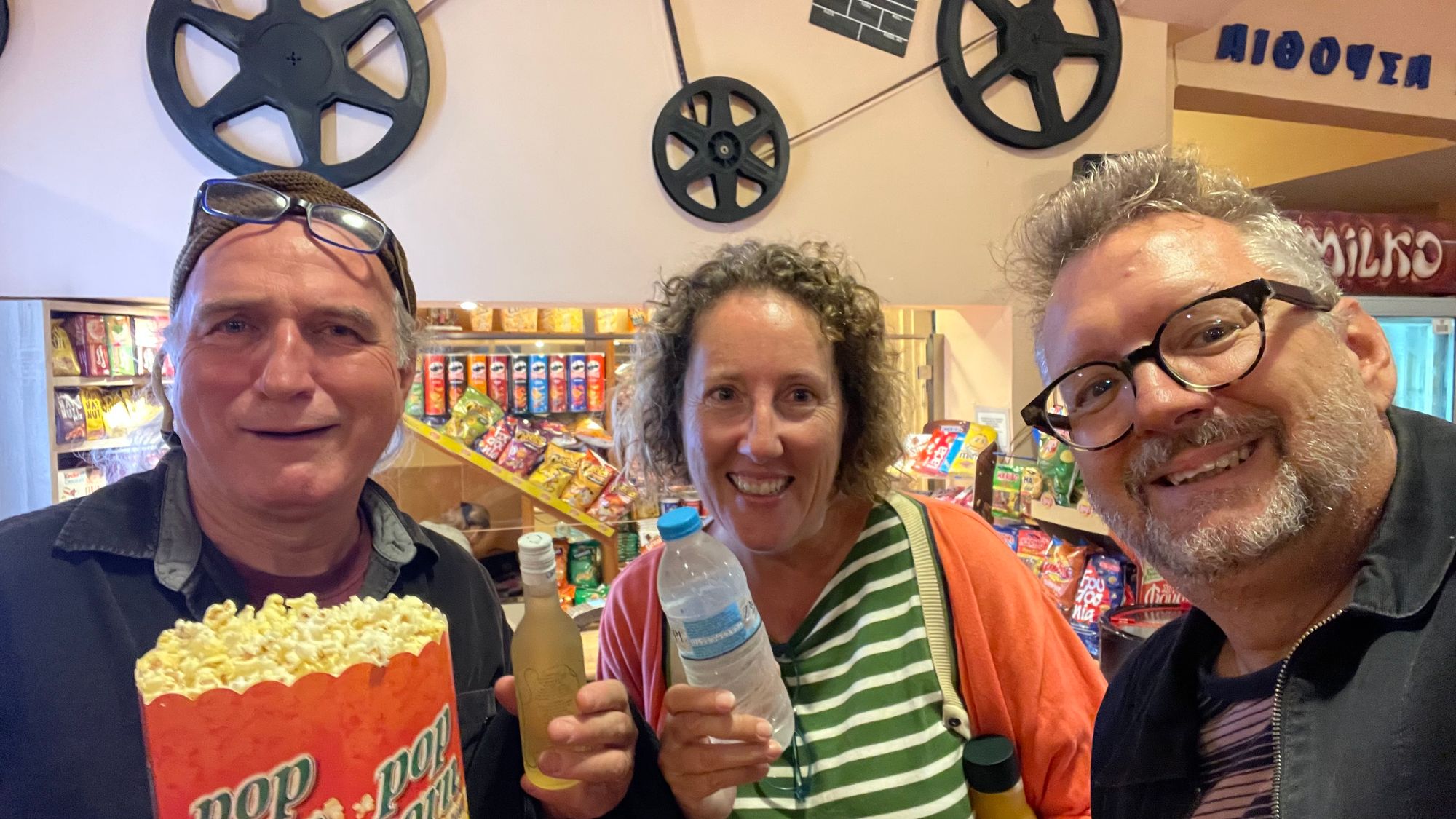 Now, it's learning how to slow down again. We have a lot of time to get things done; we're here for a good 10 days before heading to Athens for a catch-up with Shawn and Lyn and to spend some time in 'The Nest'. Today it's a group walking tour of Mytiline with several people from the other boats here that we're still meeting.
It should be a great winter!
Season statistics
Five countries (Montenegro, Croatia, Italy, Greece and Türkiye)
~100 ports of call/anchorages.
2907 nautical miles!
5,850 litres of diesel, ~€8,200 worth
4 guests, 17+ boats socialised with.
27 different islands (throughout Croatia, Italy, Greece and Türkiye)
Until next time,
Tim & Karina
Where are we now
This is probably the last of these until next season, as we won't be moving for a while!