Where the Wombles live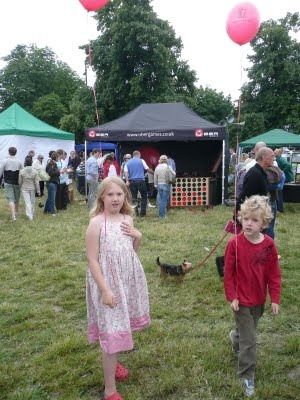 We went to Wimbledon Common on Saturday, partly because I had gone there during the week and wanted to show Tim and the kids, and partly because they were holding their annual village fun fair. The suburb of Wimbledon was starting to look ready for the tennis – they had laid astroturf at the entrance to the train station and many shop windows were decorated with tennis rackets and balls. Wimbledon is very green and posh with huge houses, fancy cars and uber-expensive shops. I loved it! I would definitely like to live there next time rather than Tooting. They have a small village near the common with the most wonderful bars, dress shops, butcher, book shop, etc and we stopped in one cafe called 'giraffe' which specialises in serving all Fairtrade food. It's quite a big thing here to buy Fairtrade produce; many Londoners already buy organic everything, so Fairtrade is the new standard to aim for. Anyway, time for some pics from the fun fair:
The obligatory free balloon from the real estate agent
Jasper really loved sitting in the driver's seat of the fire truckThe fun fair was very traditional and had horse shows, dog shows, a tug-of-war competition, lots of art and craft stands and a food court. It was a lovely atmosphere, and the kids tried some strawberries and cream.
Jasper initially wanted to change his order and muttered something about 'cream' so he got a pot of strawberries without cream. His bottom lip turned out and he screwed up his eyes so we knew something was wrong. He actually wanted a pot full of cream without the strawberries! No way – he got both and devoured them in seconds.Finally, the kids and I nagged Tim to fork out his last few pounds to buy a toy – a piece of fabric on a stick that the kids think are pet worms.
Another great day in London, topped off by us all watching another great episode of Dr Who.