Working in the city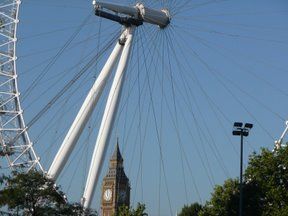 I've been enjoying the walk into the city each morning, the weather is sensational here at the moment.  I took the camera in to share a couple of the sights.
This is a view of Big Ben through the London eye — I see this as I walk from Waterloo to the bridge across the Thames.
Here is the actual Embankment Place office as viewed from the bridge over the Thames. It actually sits over the top of Charing Cross station.
Here is the view of the Thames from the office I share with the other global people.