It's all Happy Holidays here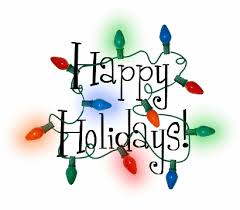 By Karina Rook
No one says 'Merry Christmas' or 'what are you doing for Christmas?'…..it's always 'the holidays' or 'Happy Holidays!'. The local bus even has 'Happy Holidays' displaying where the route number should be. Is it the reference to 'Christ' that is unacceptable, or just another cultural difference?
I have found it difficult to find Christmas crackers (bon-bons) here too. Must be an English tradition? Ended up paying $18 for a pack of eight with the usual crappy plastic junk inside. The chocolate advent calendar was another difficult one to track down. Generally there is only one small section in the supermarket for Christmas decorations, tableware, etc, instead of the entire aisle that I'm used to in Australia.
Many houses in our neighborhood have Christmas lights and light-up reindeer on front lawns. It's very pretty driving around at night. My son was very excited to see frost everywhere this morning. Apparently the black top (asphalt, or bitumen) at school is really slippery with ice.
School breaks up tomorrow and it's hard to believe they'll be back into it on January 7th…..no long break here….
Happy Holidays!