Week 73 - Ella and Inge visit
A taste of the mountains, harbours and islands with Ella and Inge… Adventures in Greece cruising the Mediterranean on our boat Matilda.
A taste of the mountains, harbours and islands with Ella and Inge… Adventures in Greece cruising the Mediterranean on our boat Matilda.
I'm both grateful, but also eternally surprised that companies will rent me a car here with a literal crumpled piece of paper that has my photocopied EXPIRED US licence on it. It's been 7 months now since KEP (the local authorities) took the US one to transfer it to a Greek one and no joy or progress yet. I suspect the car rental place doesn't really care — it's between me and the police if I'm pulled over, not their issue. The biggest complaint is that it restricts us because we can't hire outside of Greece which is something we'd like to be able to do.
Anyway, it was a pleasure to drive again, even if just for a little bit — it's been over 6 months since I last drove a car! We picked one up on Sunday morning and after touring the Acropolis museum with Ella and Inge then a nice lunch looking out onto the Acropolis, we headed up to Delphi.
I think I've mentioned before that the roads in Greece are generally in excellent condition with big freeways leading to all the major destinations. It's a side effect of the economic crisis where a lot of the recovery funding from the EU was put into infrastructure projects. Once you're off the main roads however, things can get a little tight, especially moving through old villages which were designed with donkeys and not cars in mind.
Arachova, just before Delphi, is one of the best (worst?)examples of this you'll come across. It's the gateway to Mount Parnassus and the ski slopes of Greece so it's the playground of the rich and famous (not that we know anyone like that here in Greece). It's ridiculously cute with a real "apres ski" vibe. Christmas lights, little bars and fancy restaurants line the main road.
Unfortunately, the traffic also snakes through the one main road in the town, chock full of day trippers from Athens, people returning from the ski slopes and the quaint village vibe is slightly ruined by the cars snarled through the centre. The road is two-way, but frequently only wide enough for one car to pass which means playing chicken with the oncoming traffic and tour buses as well as frequent traffic jams and impasses where you can't go forwards or reverse because of all the traffic behind you. Anyway, what should have been the last 10 minutes of the journey took closer to 30 minutes.
Arriving in Delphi, we found our Airbnb. While it was comfortable overall with a great view, it suffered from the typical Greek issue which is that no-one wants to pay to turn the central heating on. If the whole building won't agree to pay, then you just stay cold in winter and people run small electric heaters instead. It was also full of every piece of furniture the owner didn't need so we had plenty of mismatched seats for 16 when there is only four of us, which made it feel very crowded. Overall, it was pretty good, but Airbnb can be like that.
Monday morning we headed to the ancient ruins of Delphi and enjoyed seeing these again. It's hard to believe we were last there in Week 12!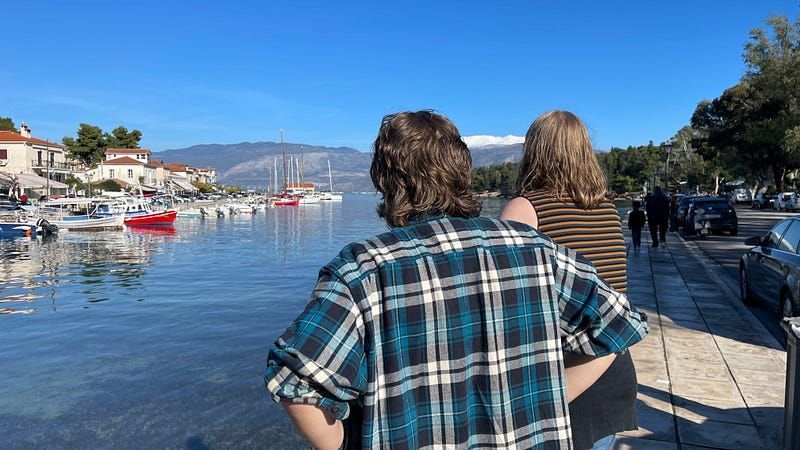 We'd been recommended the local fishing village of Galaxidia so afterwards headed down the hill to visit it for lunch. We had exceptional weather during this trip with crisp blue skies and 20C or so each day, which made it a delight wandering around the waterfront. For the first time I *really* missed Matilda and I think both Karina and questioned why we weren't back on the sea and enjoying the boat. Of course, the cold miserable weather and rain we have today has quickly reminded me why we're not! Monday evening was a fancy dinner in Arachova with Ella and Inge, a nice way to celebrate our time together.
Tuesday we headed back into Athens and explored the city centre, showing Ella and Inge our new apartment, the markets and our favourite coffee shop before they headed off to see a museum. We then returned the car, picked the dog up from the dog sitters and ran a few errands.
On Wednesday we headed to Aegina. I think this is one of the wonderful things about Greece, you have the modern city life in Athens (with iconic ruins), mountains and quaint villages a couple of hours away and then island life another hour or so away. It's easy to access it all and enjoy. Ella and Inge were keen to get a bit of a flavour of everything and we were happy to show them. Of course, a visit to Aegina wouldn't be complete without stopping in at the boat yard to visit Matilda.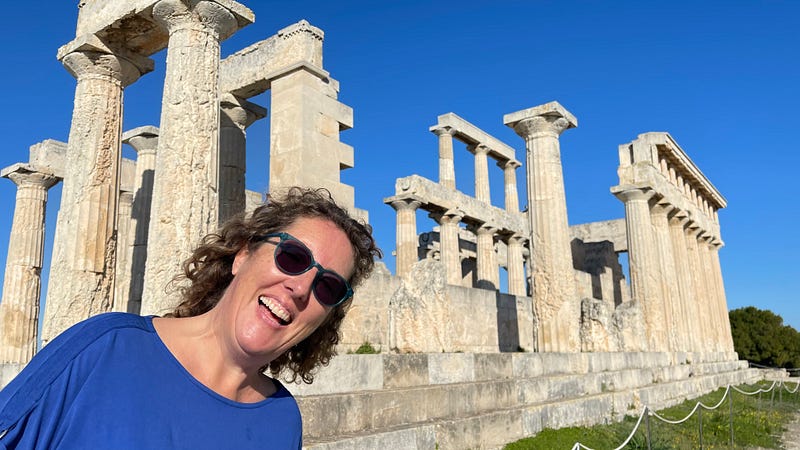 Despite the slowdown over Christmas, work has still been progressing and all the old taps (faucets) have now been removed, the engine service is underway and several things are ordered. It was fun being back on board, I think we felt very much at home although it's a bit of a mess — Karina summed it up well. It feels like being in your house during a renovation.
Besides visiting the temple of Aphaia again, we also caught up Markus and Isa for lunch. Similar to Galaxidia, sitting by the water with the blue skies had us lamenting the fact our boats were up on the hard! Isa is also of the opinion that next season, they'll be staying in the water if they can find a good harbour.
And just like that, Thursday morning at 6AM, Ella and Inge were gone again, bundled into a taxi and heading off to the airport. A flying visit, but a very enjoyable one. It was lovely to be able to spend the time with them and share a bit of what our life looks like here.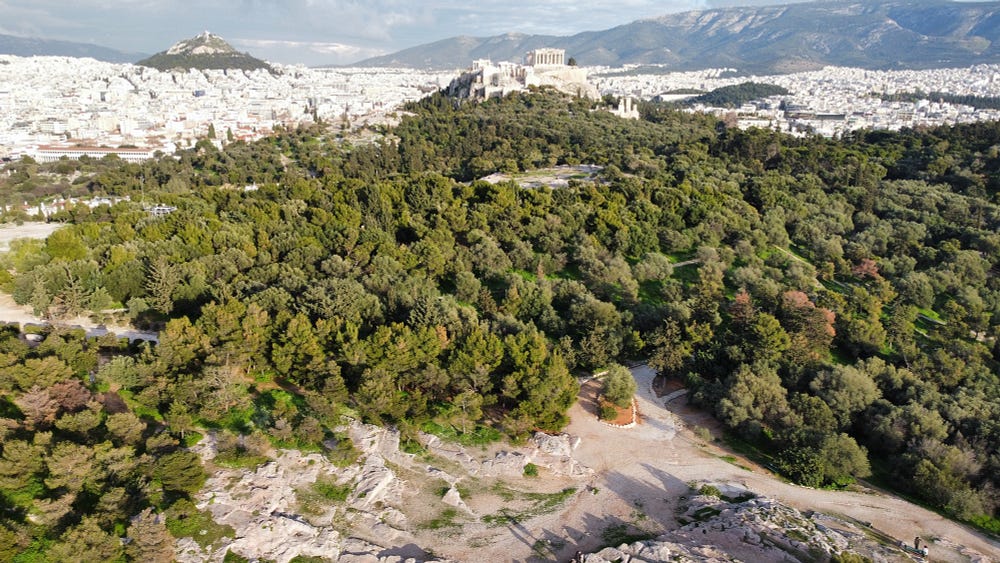 The last few days have been filled with relaxing and a bit of administration as the weather turns colder and the rain sets in. Omicron continues to impact things, we've had a couple of appointments cancelled and moved around on us now as people are falling sick. Fortunately we're both well and I don't think we've been exposed yet, or if we have, the vaccinations are doing their job. It was reassuring when Ella and Inge got their clear PCR results to return to the UK.
Although we don't think another lockdown is likely here in Greece, restrictions are tightening. With our travel plans on hold for now, we've booked a larger apartment for the second half of January just have a bit more space.
Until next time,
Tim & Karina