Week 116 - We bought a farm
We visited Bulgaria and bought a "farm"…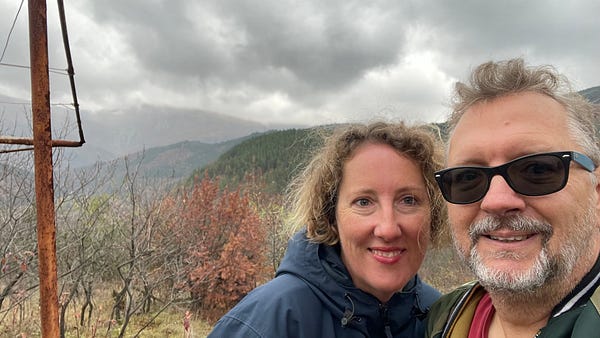 In which we visited Bulgaria and bought a "farm"…
Dear Reader,
At this stage in our blogging relationship, you should be aware that I'm not the only crazy person in our marriage. While I've been the one driving the whole "let's go live on a boat" thing, Karina has come along willingly for the ride. Still, if I wasn't here would she be buying a boat? No. So it's only right that when she wants to pursue her crazy idea I step up and support it too. With that in mind, read on and find out!
Tim
I want to (in the kindest, most non-condemning way) blame Bronwyn and Karl who we met just over 5 weeks ago back in Week 111 for this crazy Bulgaria trip, but that would be very unfair. Karina has dreamed of a small hobby farm most of her life — specifically one with a view and with goats. A cozy place to curl up by a fire, stare out the window, breathe fresh country air and just get away from it all (while also not getting too far away — we want to be able to get to a movie cinema after all).
But Bronwyn and Karl did flame the fires of a spark that's been there for a long time. They own a house in Bulgaria and we learnt that property in Bulgaria is cheap. Not as cheap as it used to be, but by any standards still very affordable. Like a few thousand Euros for an old house and some land type affordable.
Ever since they left Matilda, Karina has been scouring property sites online and we decided to go to Bulgaria and check them out. After some discussion we agreed that we didn't want seaside (after all… boat…) but that something in the mountains, with views, fresh air and enough room for some goats would be the right sort of location. It needed to be within an hour or so of Sofia (and the airport) and that while it should feel remote, it should also be reasonably accessible.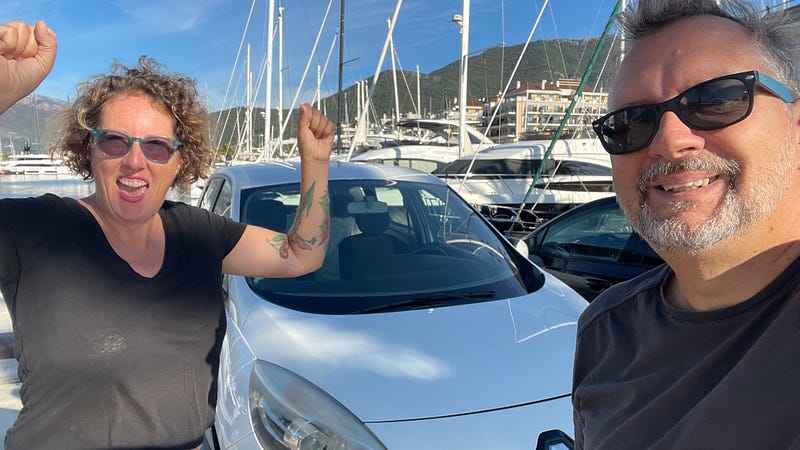 Having sorted out our rental car situation we headed off on Monday morning to Bulgaria with a short list of properties in mind that met our criteria and and appointment with a realtor who would help us tour them all on Wednesday morning.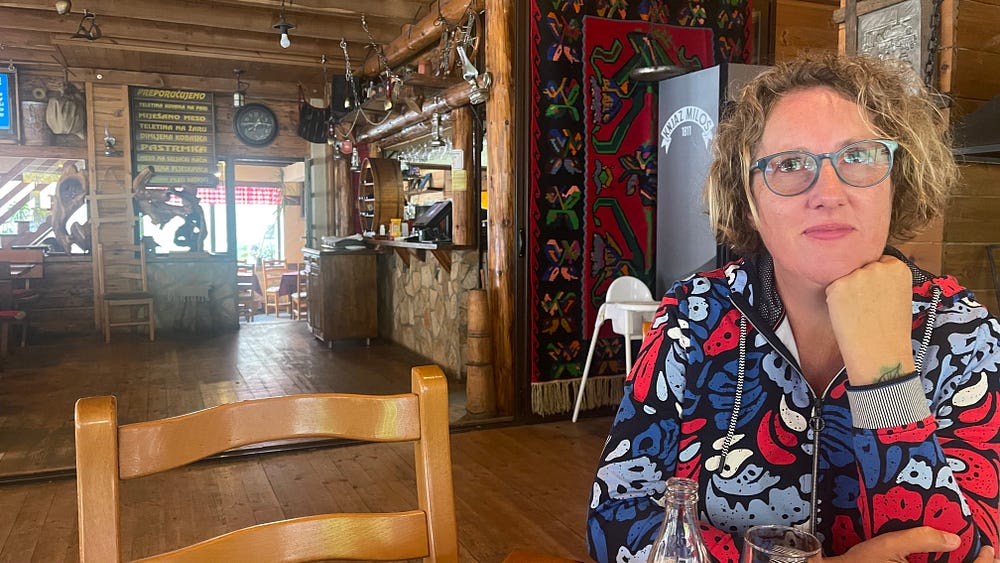 Driving to Bulgaria was an experience. There's two suggested routes given by Google from Porto Montenegro, one takes you across Serbia and into Bulgaria, the other, goes into Albania, Kosovo, North Macedonia and then Bulgaria. We opted for the Serbian route — although marginally longer driving time, we figured that Google didn't account for the border crossings and two crossings vs four would save time (a good call).
As an Aussie (and even living in the US for several years), I'm reasonably used to long drives in the car, so when I saw the distance was around 600km I mentally figured that would be about 7–8 hours drive at most. Oh boy, was I wrong.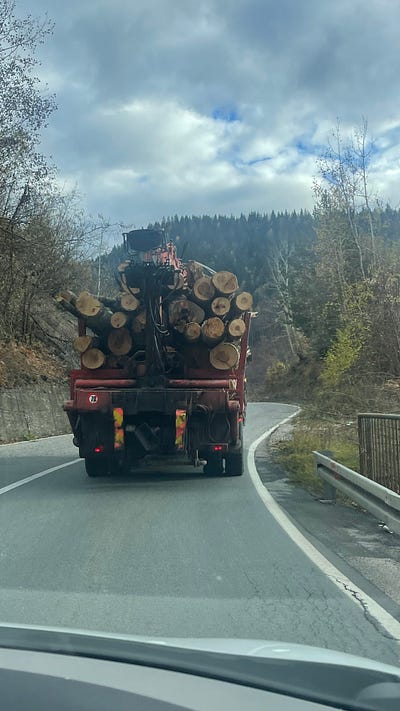 The Balkans is mountainous. The vast majority of the route was heading up or heading down, switch backing over some mountain range to get to where we were heading. If you ever wondered about how there are so many autonomous regions here in essentially the "former Yugoslavia", there's your answer — it used to take days to walk over the hill to visit the neighbours.
We also ran into a major issue with a border crossing being closed due to them dynamiting as part of the road works. This added 2+ hours to our journey as the detour sent us up into the mountains onto roads so small that they stopped appearing on Google.
Montenegro also seems a lot wealthier than Serbia just based on the roads too — the road up to the border was all paved, but the moment we exited Montenegro it turned into a fairly rough dirt road that our little Renault Scenic was not really designed for. Other roads were also quite rough — it seems Serbia (which is politically closer to Russia) doesn't get the EU funding of other places. Eventually we made it much later than intended to Nīs, a city on the eastern side of Serbia for our first nights stopover.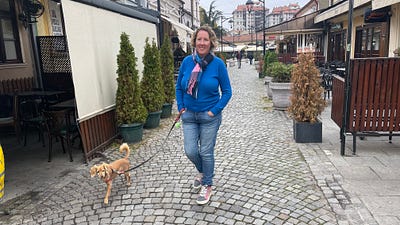 Nīs proved to be a fairly modern city with a lot of facilities and we enjoyed exploring the mall in the morning, buying some more records for the apartment in Athens and getting into a holiday vibe. From there it was a much easier drive to Sofia (pronounced Sof-ya, not Sofi-a), the capital of Bulgaria.
We've both been pleasantly surprised by what a lovely little city Sofia is. It's reminiscent of Melbourne in some ways — particularly with the trams and tram lines running around the place. Rosie was definitely not a fan of those! While there are touches of the old school communism around, overall it feels vibrant and different from the other Balkan countries.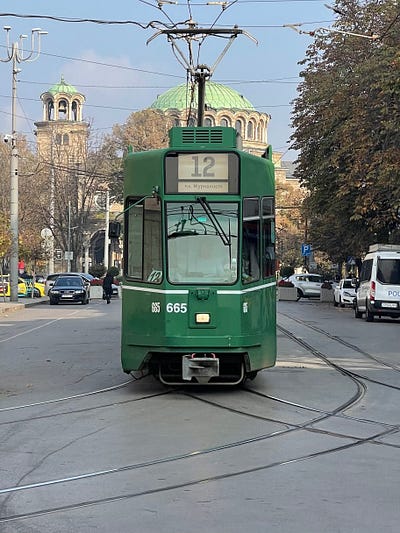 Like lots of old cities, it was never designed with cars in mind and the roads are full of cobbles stones and the car parks are crammed into the basements of old buildings. Our Airbnb provided a car park in the basement of a nearby building, but after it took about 20 minutes to actually park in it (20 point turns reversing in) and then another 20 minutes the next morning to get out, including spinning tires and having to rev the engine to even get up the steep access ramp, we opted to never enter it again.
Having exited the car park successfully with the adrenaline pumping we headed off Wednesday morning to the city outskirts to meet the real estate agent in a shopping mall car park. Along with his partner and Rosie, we all bundled into his Honda CRV and headed off to the North Eastern area outside Sofia.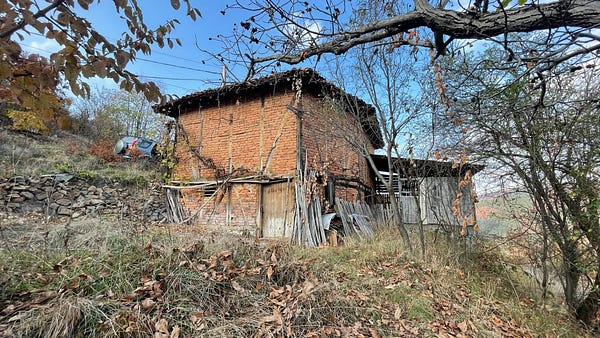 It seems that Bulgaria has similar issues to a lot of other places in the world with youth departing smaller villages for the opportunities in the large cities like Sofia. According to Dim, our agent, there's roughly 40–50 villages in Bulgaria that just stop existing each year due to population migration or the last person in the village dying off.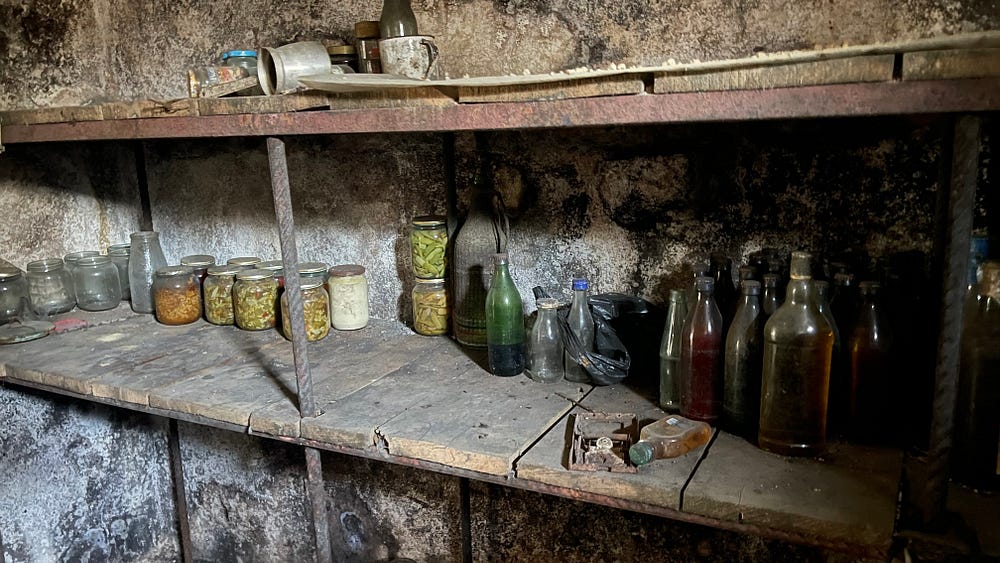 Our experience as we viewed properties definitely matched this story. It was not uncommon to come to a property that was crumbling down, the roof collapsing in and a sign on the door with the memorial information of the last owner. In many cases, the houses have been abandoned for 10 to 20 years after the last owner died. In some instances their clothes, furniture and bedding still inside the house, rotting away completely abandoned. The current owners are typically their children (or grandchildren), now living in Sofia with no time or interest to return to the unliveable and overgrown block of land in the hills.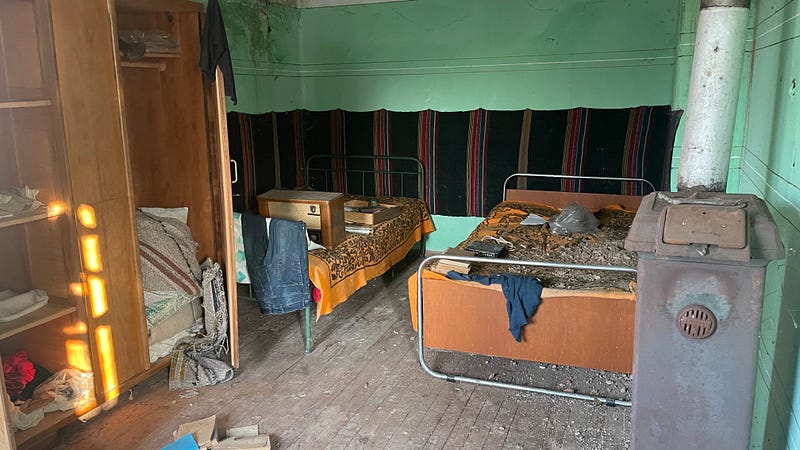 It was a sombering, but intriguing glimpse into the past. Yet beneath all of this, some of the villages are surviving and even slowly reviving partly due to foreigners coming in and investing. As you get closer to Sofia there are also villages with people willing and able to commute. The small village of Ignatitsa is one that's done well with the influx of foreigners who provide a source of work and income in both maintaining properties while they are away, rebuilding the old houses and giving a reason to maintain the shops. Many people living in the villages are retired and surviving only on the local pension of around 100€ a month, so any opportunity for income is welcomed.
We're definitely conscious of not wanting to out compete the locals, but many of the properties we've been looking at have been on the market for years, unable to find a buyer.
Dim suggested that we check out a small property that wasn't on our list, as he felt like given what we'd been talking about it might meet our criteria. We drove up towards Ignatitsa and then on to a small dirt road. The house was tiny. Like 20 square meters in size tiny, but it had previously been someone's home, then probably a holiday house and now, abandoned, fit only for bulldozing. But the views! Of all the properties we visited, even some more expensive ones, this had the best view of the lot looking out over the Iskar River and the limestone cliffs of the Vratsa Balkan national park.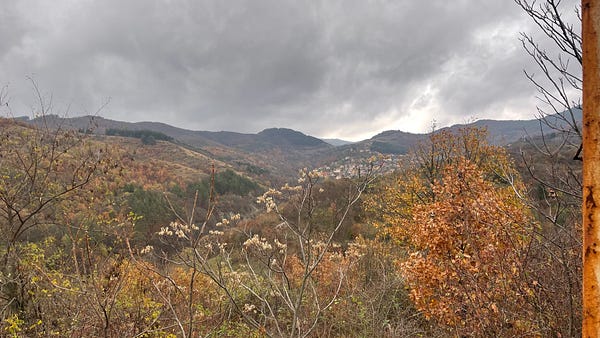 We always knew that we were buying primarily land and that none of the houses in the price bracket we're searching in would be liveable, but this one was especially small and decrepit! Karina's eyes immediately lit up though, here were the views she'd been searching for. It was the right level of remote, the right outlook and after that, nothing else measured up. We both liked an old school house abandoned 10 years before, but it was a big restoration project and much larger in size than what we needed so that one dropped off the list.
After talking it through that night we decided to proceed, put in an offer then met on Friday with Dim to sign the paperwork. Very shortly (this coming week) we'll be the owners of a Bulgarian company through which we can buy the property and by the end of the year (probably mid-December) we'll own 2,000 sqm of Bulgarian agricultural land with a tiny unliveable house.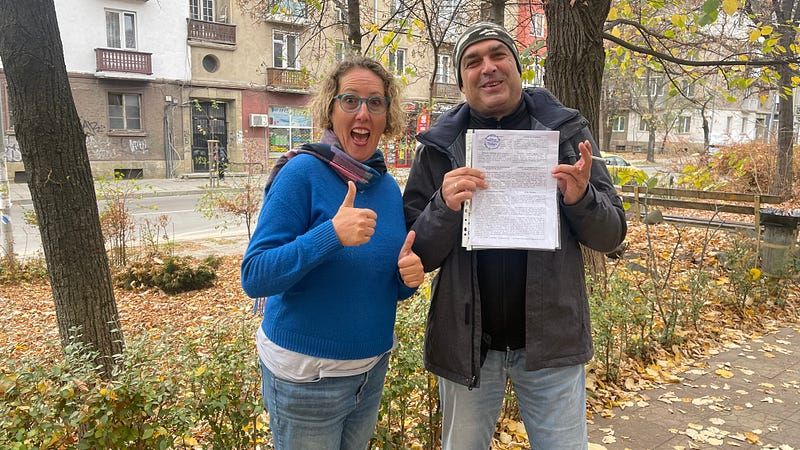 The obvious question is why? To which there's no really great answer other than Karina's statement that "sometimes you just have to be spontaneous and take the opportunity while you can". It may work out to be a terrible financial decision, but given the cost is fairly minimal if there are eventual losses, they'll also be minimal. On the other hand, we get a fun new project, they aren't making more land with these views and we'll be ready for a zombie apocalypse.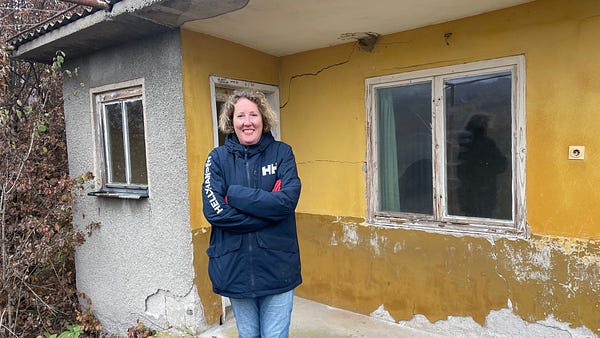 Although we have no specific plans yet, we're considering options to create a liveable space with a "container" house. Ultimately I think it will end up a place where we retreat for a few weeks a year. We'll enjoy the mountain air, potter in the garden (something we don't have on the boat) and probably inject a bit of money into the local economy by employing an army of aged pensioners to look after it while we're away 😆.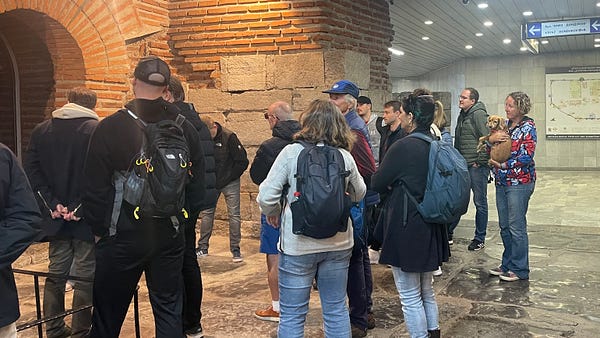 On Thursday we had the opportunity to explore Sofia in more detail and Karina found us a free walking tour which was a great way to see a bit more of the city. We love how Sofia has a lot of layers to it and enjoyed seeing the Roman era ruins still intact under some of the main squares and on display in the metro.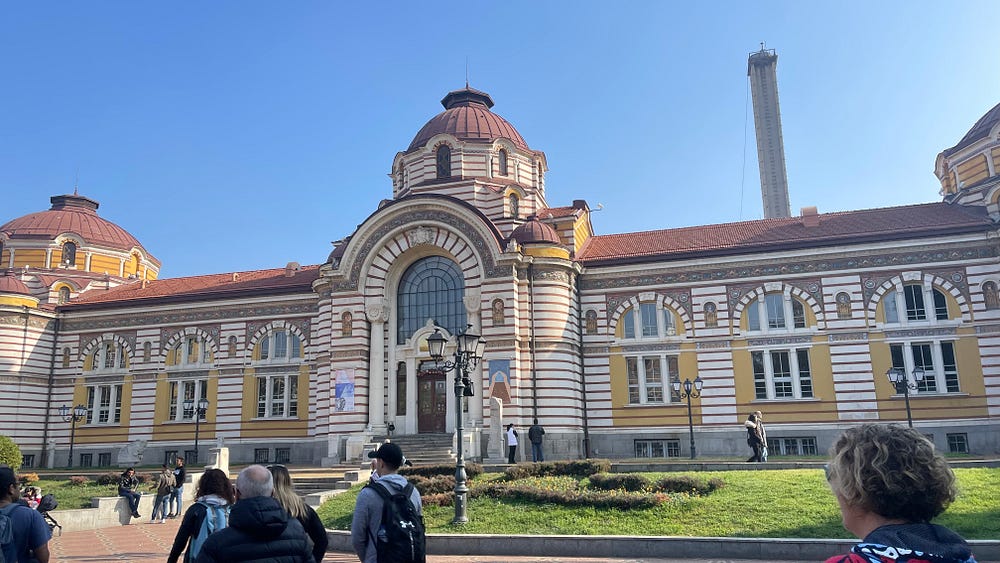 We also learnt a lot about Bulgarian history, politics and a couple of interesting stories. One was about an assassination attempt in 1925 on King Boris III by the communists — they planned for months, installing explosives under the roof of the main cathedral. They then assassinated a general — someone important enough that the King would attend the funeral and detonated the explosives in the cathedral killing around 150+ people and injuring 500+ others. It was the largest terrorist attack in the world at that time. The King survived however as he was late, having attended a different funeral earlier that day of people killed in an earlier assassination attempt on his life. Today in Bulgaria this is an acceptable national excuse for being tardy. "Sorry I'm late, but I might have died otherwise".
The other story that was interesting was the role of Bulgaria in preserving the 50,000 jews living in Bulgaria during WWII. As our guide told it, Bulgaria had basically tried to stay independent but was forced into alliance with the Axis. Part of this alliance to avoid invasion was that they were to deport all the Jews. After the Bulgarian people found out about the plan, they increasingly found creative ways to prevent this from happening, claiming the Jews were required for national projects. Eventually Boris III was summoned to answer to Hitler and shortly after died — probably of a heart attack, but if you like a good conspiracy theory, possibly poisoned. No Jews were allegedly ever deported although the population of Jews did decrease dramatically after the war as many of them emigrated to Israel.
Like many of the countries here, it's an interesting and complex history. The relationship with communism is also complicated. As our guide (31 years old and born post communism explained), most people of her generation are very much in favour of closer unification with Western Europe but the older generations are still very mixed in their views — it depends largely on how your family fared under communism. Her grandfather was strongly pro-communism — he grew up in a village bathing in the local river, then the communists came and he received an education, was successful in his career and died in an apartment in Sofia with an inside bathtub. Others had their families taken away and summarily executed — that certainly influences how you view the communists too.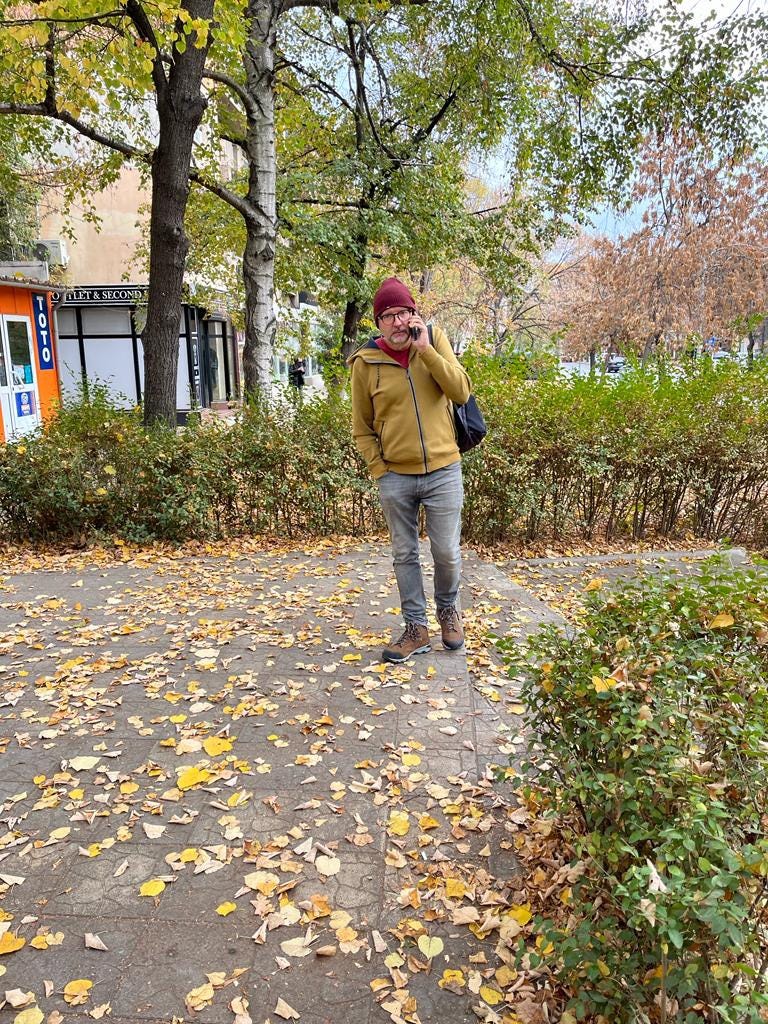 Friday we spent the vast majority of the day dealing with paperwork relating to the upcoming property purchase. We also had an emergency trip back into the city as we'd forgotten the check out date on the Airbnb — very unlike us, but time is increasingly a weird concept when you're able to cruise around and fill it in interesting ways. Karina received a message from the host and we realised we had the wrong day and instead needed to be out of the apartment within the hour 😧.
On the positive side, now we didn't have to go back into Sofia, we headed up to Vratsa, a nearby city to the property we've committed to buying to check it out again! Today (Saturday) has been spent exploring the local area a little and getting a feel for the location some more, driving along the Iskar River Gorge, shopping at a few last locations we can't easily find in Porto Montenegro and relaxing before another two days of driving home tomorrow morning (Sunday).
Until next time,
Tim & Karina