Week 146: Herculaneum
We continue south through the Abruzzo, Molise and Apulia regions. With Coast Guards, Road Trips, Ancient Cities and a bit of socialising, it's a busy week!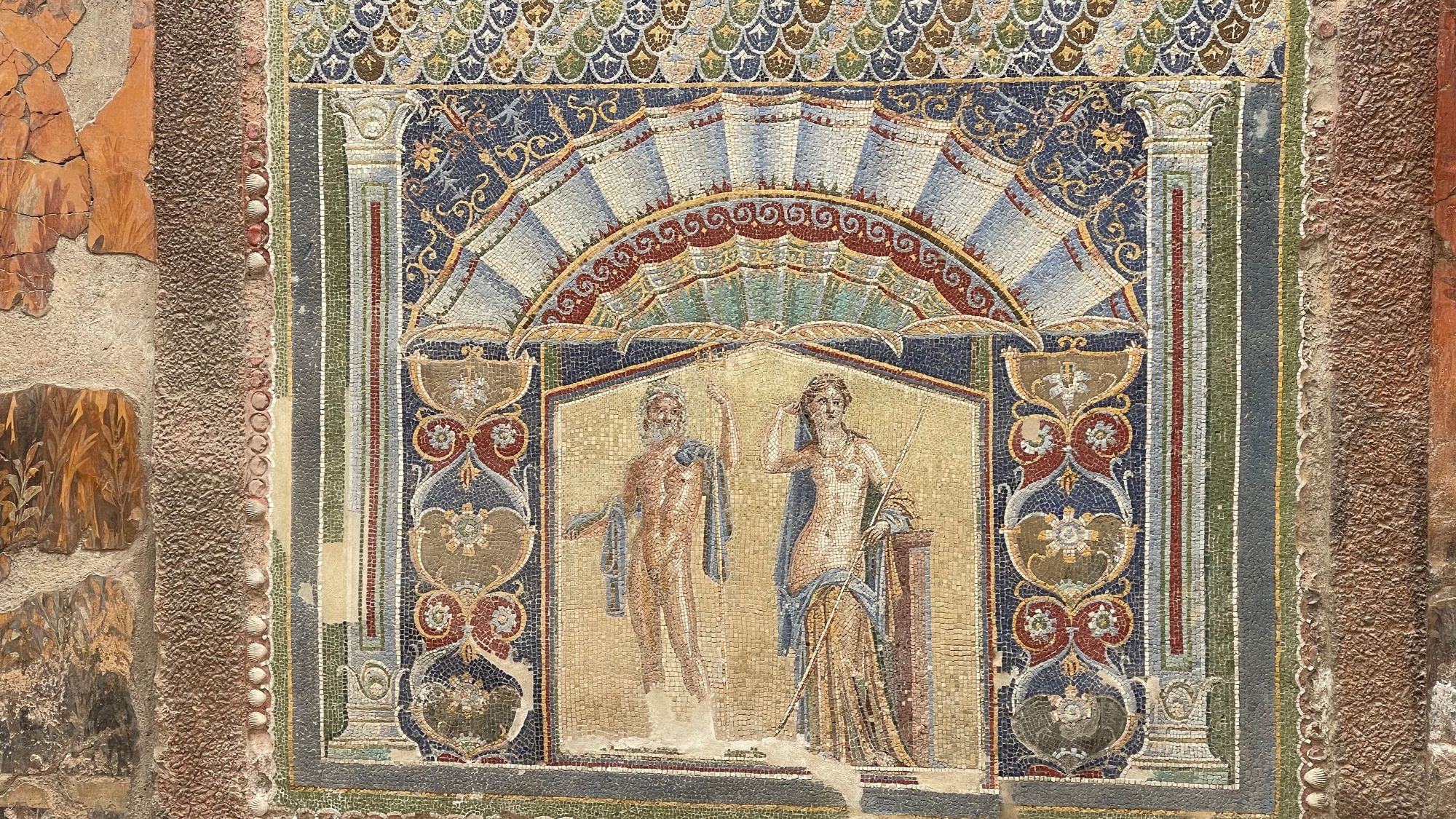 Every now and then you have to do something dumb to remind yourself why it's a bad idea. This was us last Sunday, when, sick of paying for marinas, we decided "why not just anchor out?"
There really is just no shelter up and down this coast. Even on a calm day with little wind, swell was still pushing into the bay and we had a rolly, uncomfortable night with little sleep at anchorage. The €50 a night in a marina suddenly seemed worth it!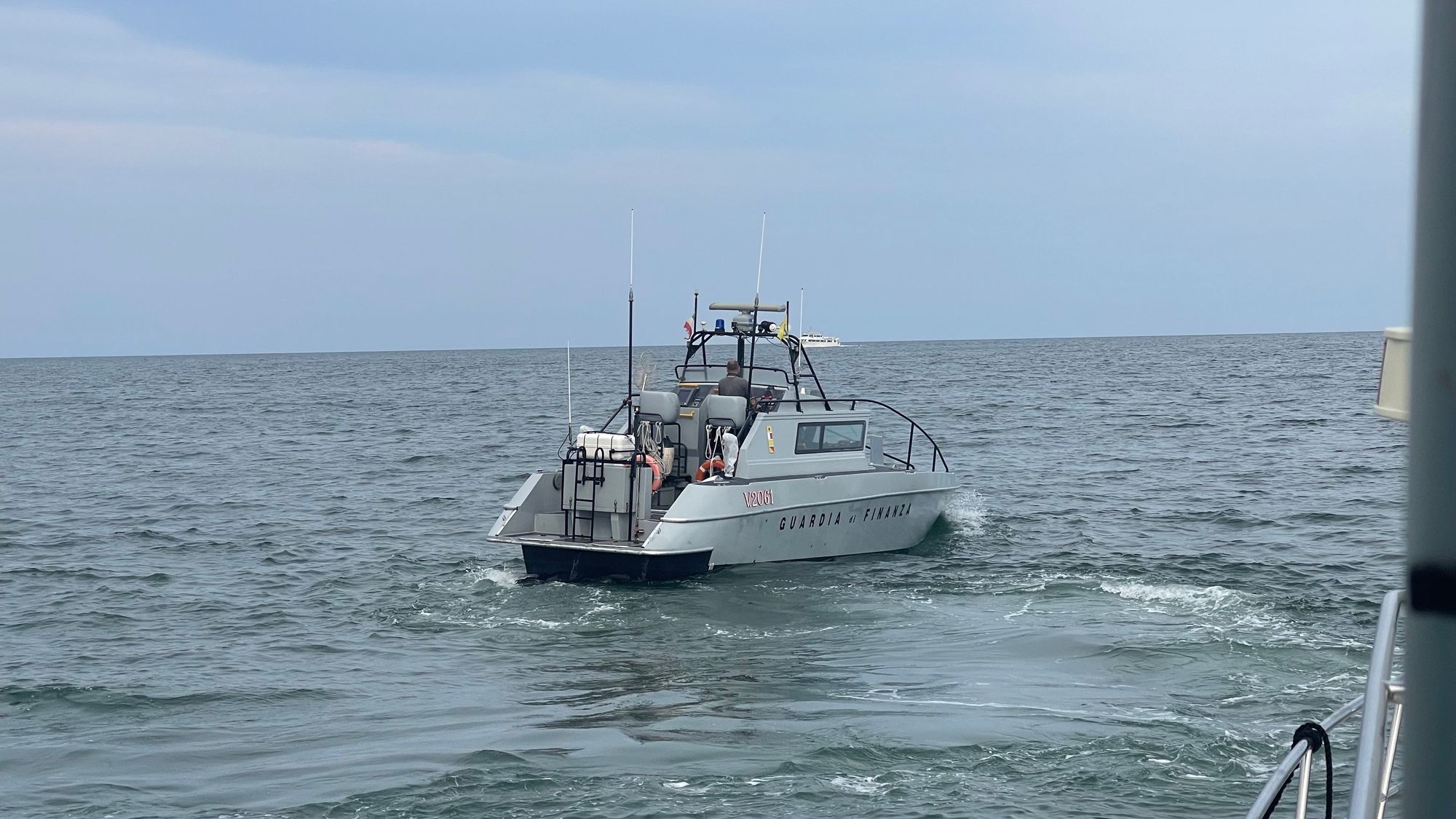 To top it off, the Coast Guard Finanzia decided that perhaps they should investigate these idiots anchored outside a port and find out what we were up to. I think we convinced them we were doing nothing wrong, if only because anyone with a cunning plan would have been better prepared for questions than us!
"What is your next port?"
"Ummm.... Bari?"
"So you will be in Bari tomorrow night?"
"No, it's.... eventually Bari, but tomorrow night, somewhere that way," I waved vaguely South.
"What was your last port?"
"Umm... somewhere that way!" I waved vaguely North. "Was it Ravenna? No, that was earlier, maybe Otrano? Oh, no that's this port... I can't remember, it was 14 nautical miles North anyway."
"Where do you live?"
You get the picture. After a minute or so of listening to our increasingly complicated explanations of not really having a home, and that we lived on the boat, they asked for all of our documents. They brought their boat close to ours and we threw everything, boat registration, licenses, insurance and passports into a fishing net they reached out with, then they moved off a couple of hundred metres while we sat and waited.
I've no idea what they did with it all, but after an anxious 20 minutes later, they came back, handed over all the documents and said "Ok, have a nice holiday," then sped off into the distance.
From that very tiring beginning to the week, we headed south to San Salvo Marina, just outside of Vasto in the Abruzzo region. This whole region of Italy is relatively untouched by foreign tourism, so it's still really quiet. Even though it's now well into June, a lot of places are still running on "winter hours". In July and August it's very busy here with Italian tourists, but outside of that, it's a wonderfully "undiscovered" part of the coast.
What's fun about that is there's no need to make plans! We can simply head on South, and when we approach a marina, they'll always have an available berth for a day or three, no need to book ahead.
The marina at San Salvo was a sleepy little place that was still in winter mode. The lady at reception swore that in July it would get busy, but for now, most shops were closed (or opened at random "when I feel like it" hours). There was a small RV park nearby and we did meet a couple of Germans who were walking the marina.
"I can't believe it, no one speaks any English," exclaimed the woman. Which I found amusing, she couldn't care less if people spoke German or not, but being in Europe and unable to speak English is unforgivable. We continue to be impressed by just how multilingual everyone in Europe is.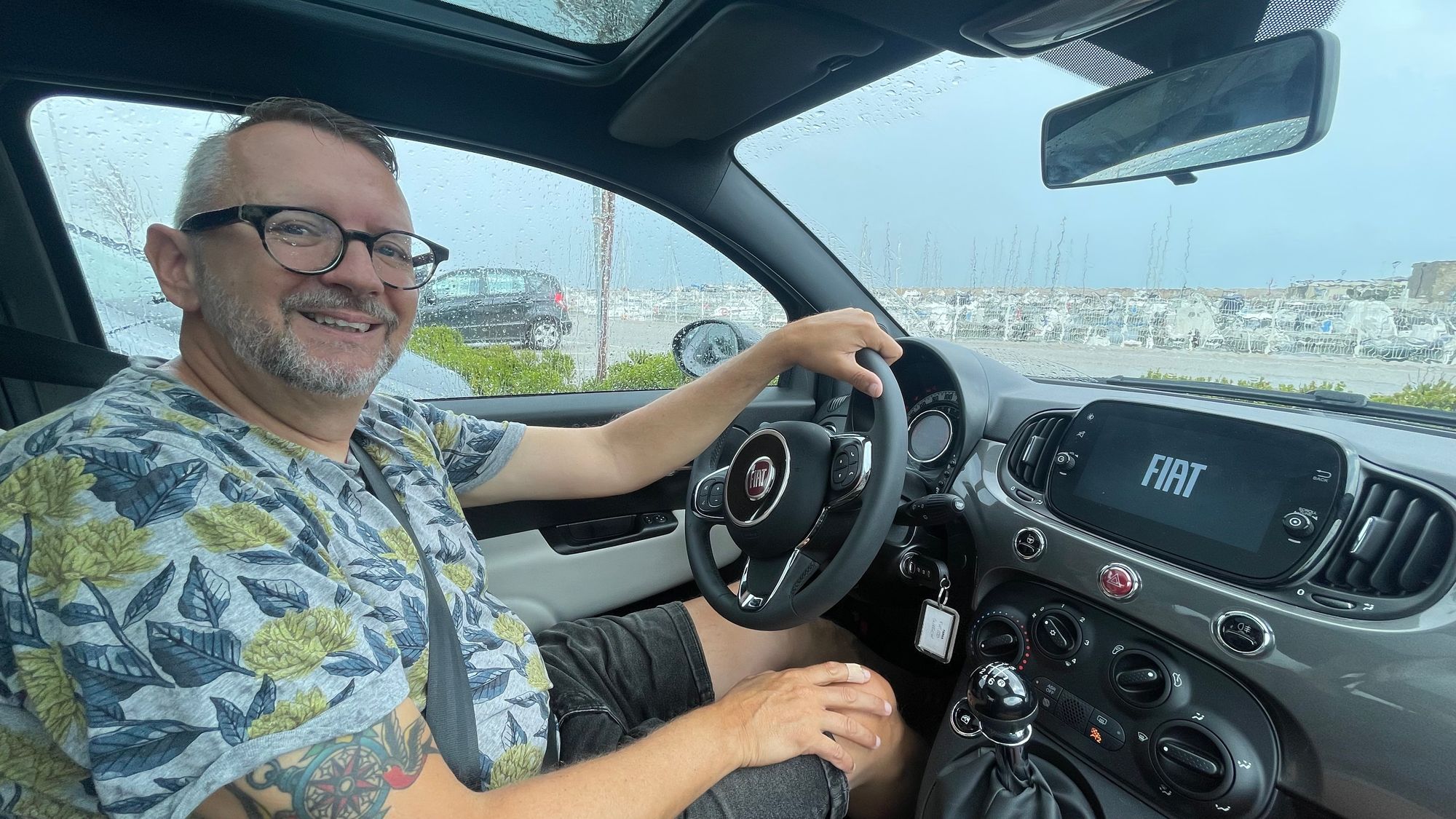 With the boat safely tucked up in San Salvo, it was a great opportunity to hire a car and see some sights inland for a few days. First stop, the big supermarket to stock up on all the heavy items we don't like carrying to the boat by hand (lots and lots of UHT milk).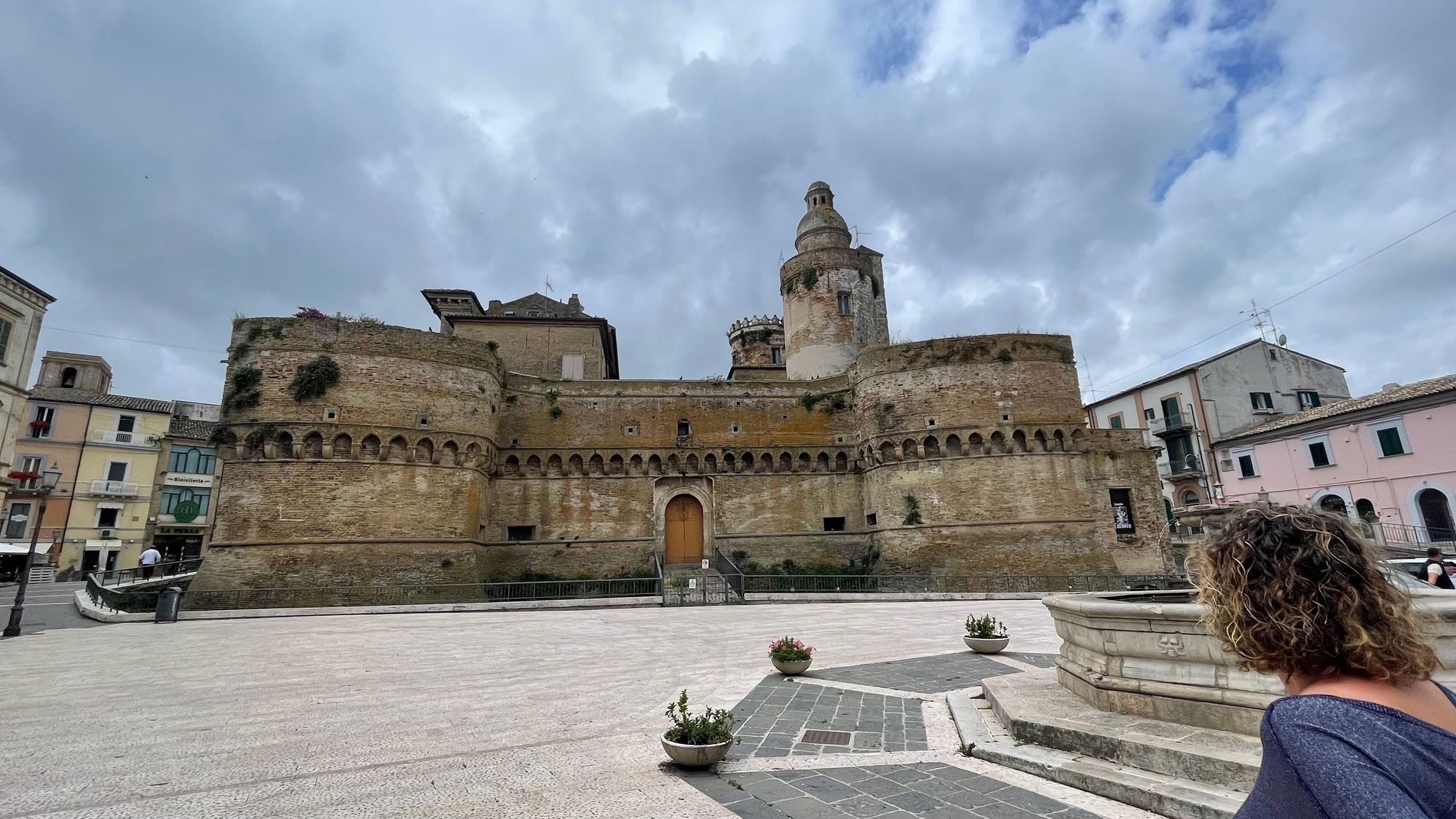 We headed to the local town of Vasto which was really beautiful. This area is known for its hilltop villages and Vasto is a larger town that sits high up on the mountain overlooking the Adriatic sea. Pirates were a very big concern up and down the coast, especially back in the 1500's, so most places were set up high and fortified, (more on this when we get to Vieste)!
The next day (Wednesday), we were up early and with Rosie in the car with us, set off to drive across Italy and visit Herculaneum (Ercolano).
When we first visited Italy back in 1997, we went to Pompeii, but I don't recall hearing anything about Herculaneum at the time. Over the last few years, I'd started to see more things pop up about it and it had me intrigued. It all made sense when we visited.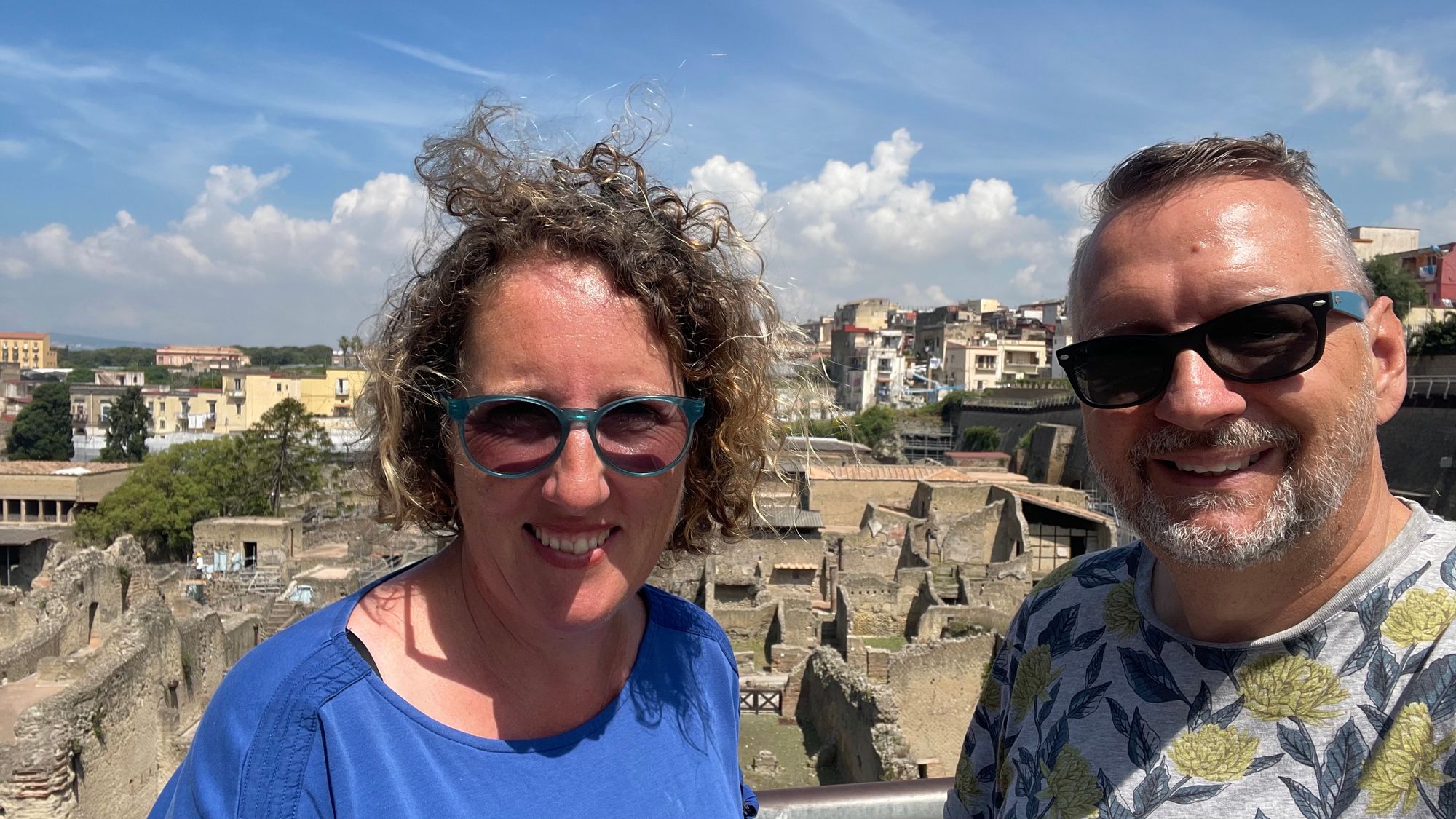 Herculaneum is an old Roman city that is contemporary to Pompeii. It also sits at the foot of mount Vesuvius and was destroyed in the same eruption that destroyed Pompeii. The city had a population of around 4,000 people and it was a summer retreat for wealthy Romans, sitting right on the coast. The buildings in Herculaneum are generally grander and more ornate than those in Pompeii. It didn't have some of the industry of Pompeii, nor the trappings of a bigger city (like brothels).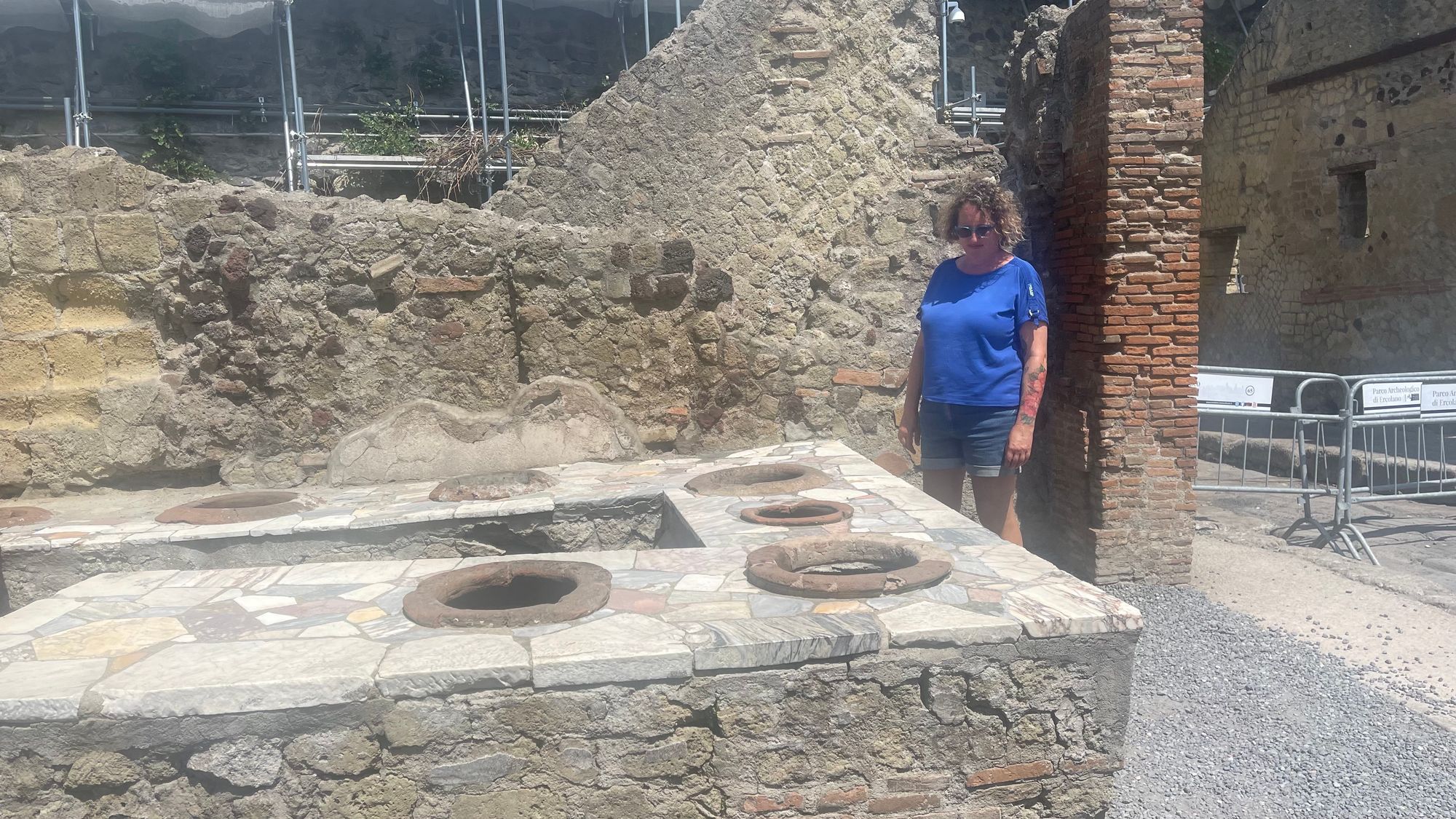 The other major difference, and what makes it fascinating, is that it was destroyed in a different way. Pompeii was quickly buried by ash, which suffocated people, covering them where they fell, leading to the famous body casts we all associate with Pompeii. Most of Pompeii was levelled by the weight of all the ash, with buildings collapsing and the heat destroyed anything organic. With Herculaneum, it was destroyed a little slower. It was first covered by a mud flow and then covered by ash which did two things. It actually supported the buildings, which means that most of Herculaneum has somewhat intact two story buildings. The second thing was that the mud helped preserve organic materials, so a lot more wooden structures have remained, giving a much better sense of how people actually used the spaces.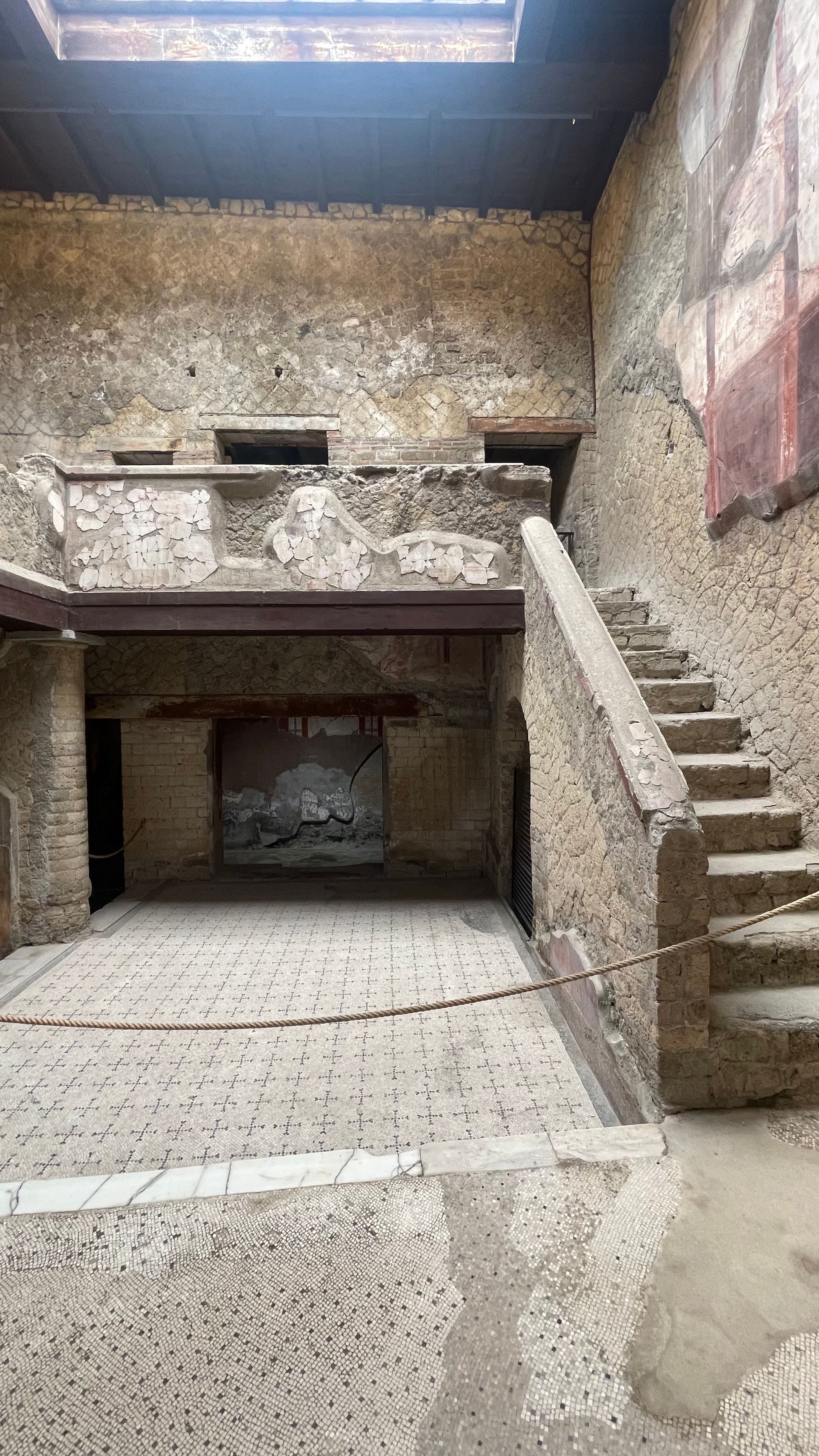 It was discovered a little later than Pompeii and excavated in a different way – early on, they were digging tunnels down underneath the existing city to raid the ruins they found below. By the year 2000 it was in neglect and much of it closed because the buildings were run down and in danger of collapsing, which explains why we hadn't heard of it before. It was well known to scholars, but not to tourists. Thankfully since then a lot of money has been put into preserving and restoring it and now, it's a really fascinating place to visit.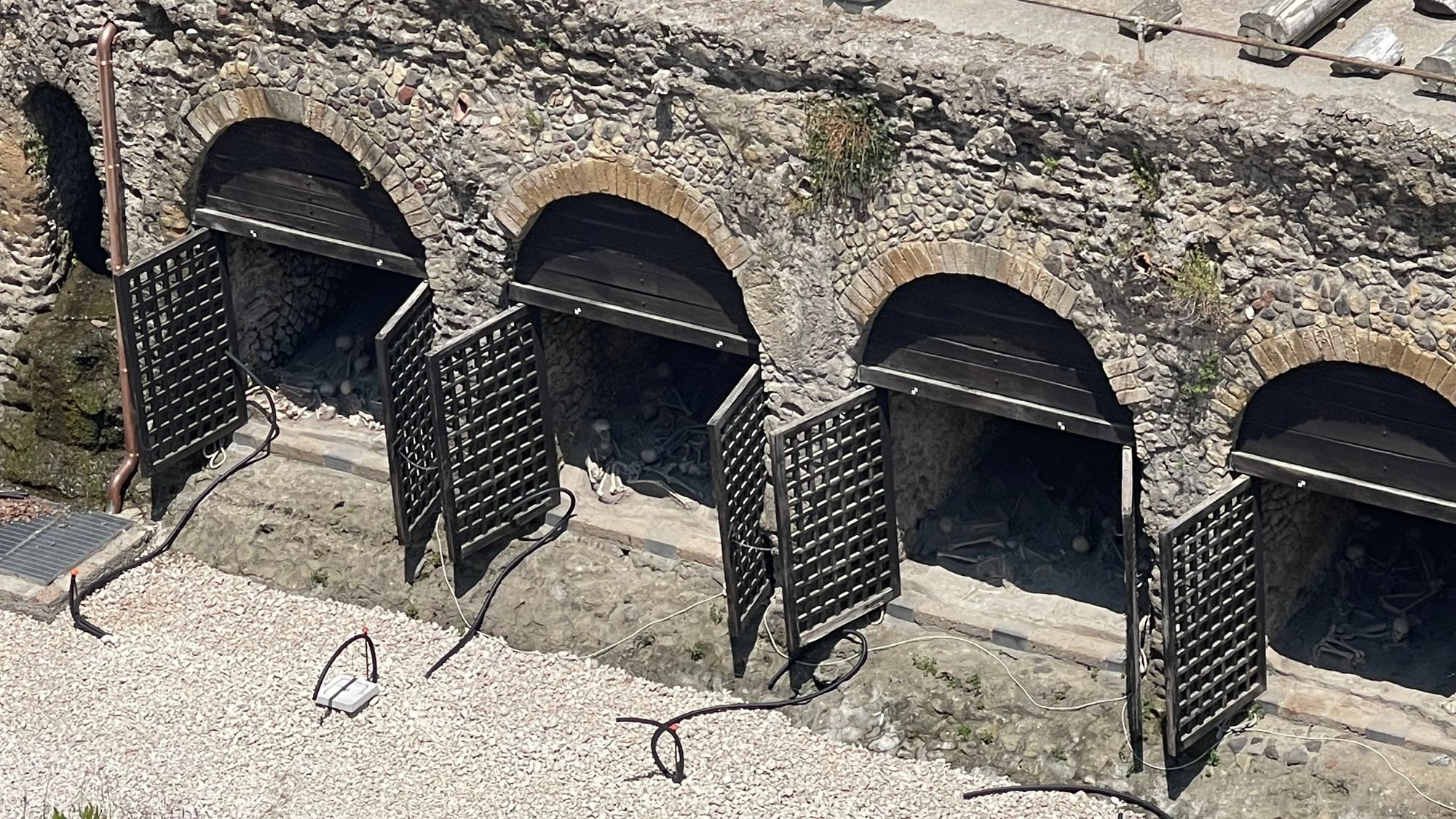 We loved the sense of how things "really might have been" you get from a place like this. Visiting the villas, the temples and the fascinating street stalls, all set up ready to serve food to people. There are wooden shelves still on the wall - originals duplicated with replicas to show how it was set up in the shop, or shelves in the bath houses where people would put their belongings.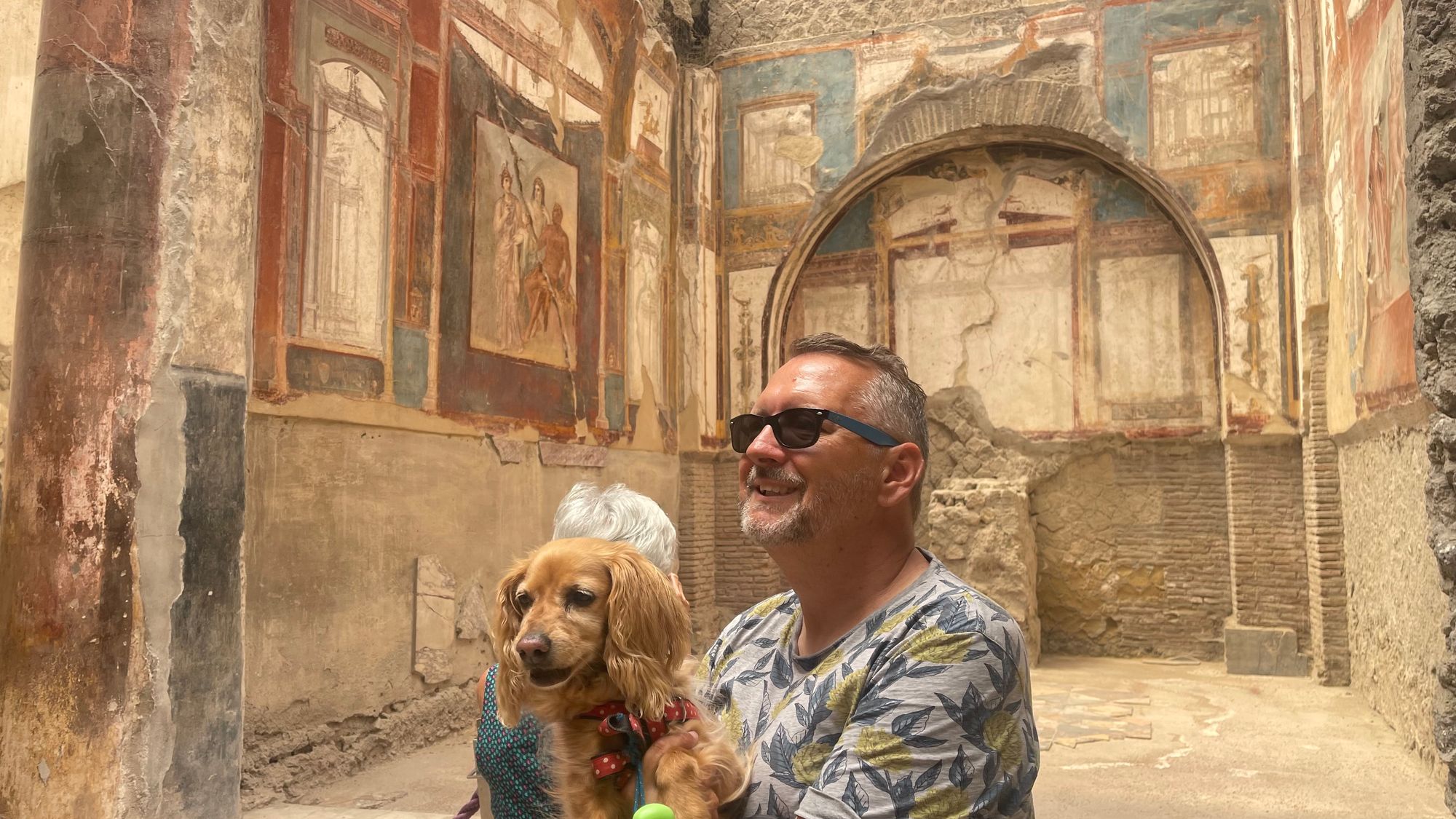 They've also made the decision in Herculaneum to, as much as is practical, preserve things "in situ". Rather than the mosaics all being taken away to museums, they are still there on the fountains, in the shrines and on the floors.
Thursday we headed south once more, this time to Termoli, another medieval era fortified village, this time in the Molise region. It was pleasant enough, we enjoyed wandering the streets, but the more amusing highlight was what is purported to be the smallest alleyway in Europe.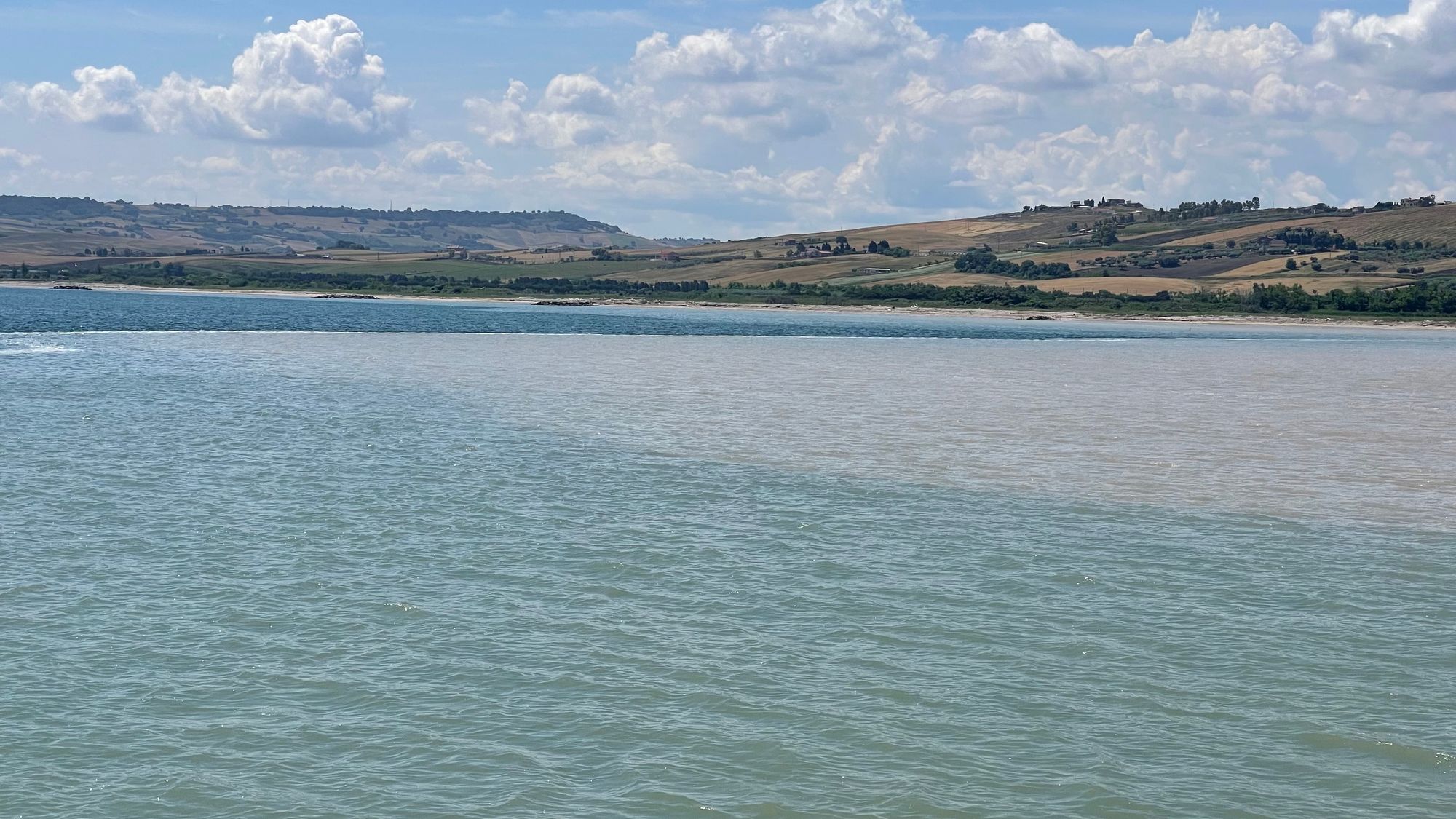 That evening we met a Dutch/Italian couple who had their boat next to ours and spent an enjoyable evening sharing some drinks, chatting and learning a lot more about Italian culture. They have owned a lot of boats over their time and had many stories to share about their adventures travelling around, as well as a general disdain for the Italian carbinieri/polizia.
Then it was a big day of 10 hours, crossing from Termoli to Vieste where we've finally made it to the "Spur" of Italy, the pimple on the back just above the heel of the boot. We're getting closer to where we started the season, only another 100 nautical miles or so and we'll be in line with Montenegro again.
After we'd docked in Vieste, Karina pointed out a boat on the pontoon next to us. "Isn't that Equinox? The boat we met in Croatia?"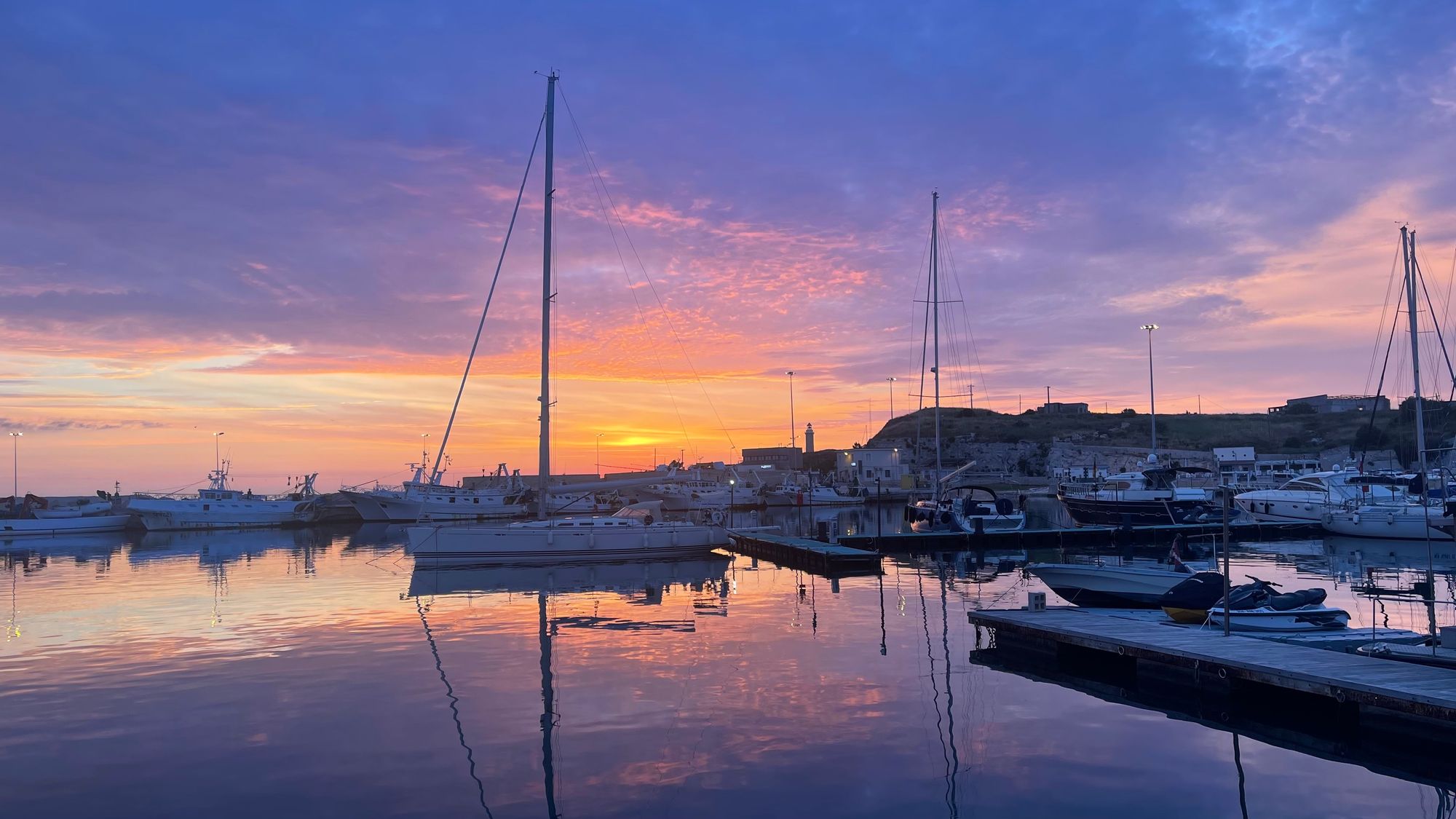 Sure enough, it was Tricia and Steve, who we met back in Week 140 at the Pakleni Islands in Croatia. At that time, they were heading for Montenegro and now, they were back exploring Italy before a haul out in Bari next week. It's always wonderful meeting people a second time, you get to know each other that bit better and we enjoyed drinks with them aboard Matilda that Friday night, then dinner together at a restaurant on Saturday.
We plan to stay here in Vieste for a few days to wait out some weather and also just take a bit of a break. There's some maintenance to do (when isn't there) and while cruising is fun, it's also great to sit and relax for a while too! We're enjoying exploring the town and learning a bit about the history of this part of the world while waiting out what's turned into a stormy Sunday with lightning and thunder everywhere. The weather this year is a lot stormier and cooler than it was last year. We remember 40C days already last year in Greece, but everywhere is much cooler for once. It's averaging around 23 - 28 here at the moment.
Back to the pirates... I mentioned that there was a lot of issues with pirates up and down this coast of Italy and Vieste was no exception. Although the word trouble, is perhaps an understatement. As we were coming down the coast, we saw towers erected every few miles, all within sight of each other.
The story goes that the Turkish pirate, Draguth Rais, pushed by a terrible storm, ended up off the coast of Vieste by chance. Never one to waste an opportunity, he ordered is 70 galleys to attack. They fired some 970 cannon shots at the walls and castle, until a traitor turned over the keys to the city, reportedly in exchange for letting people go.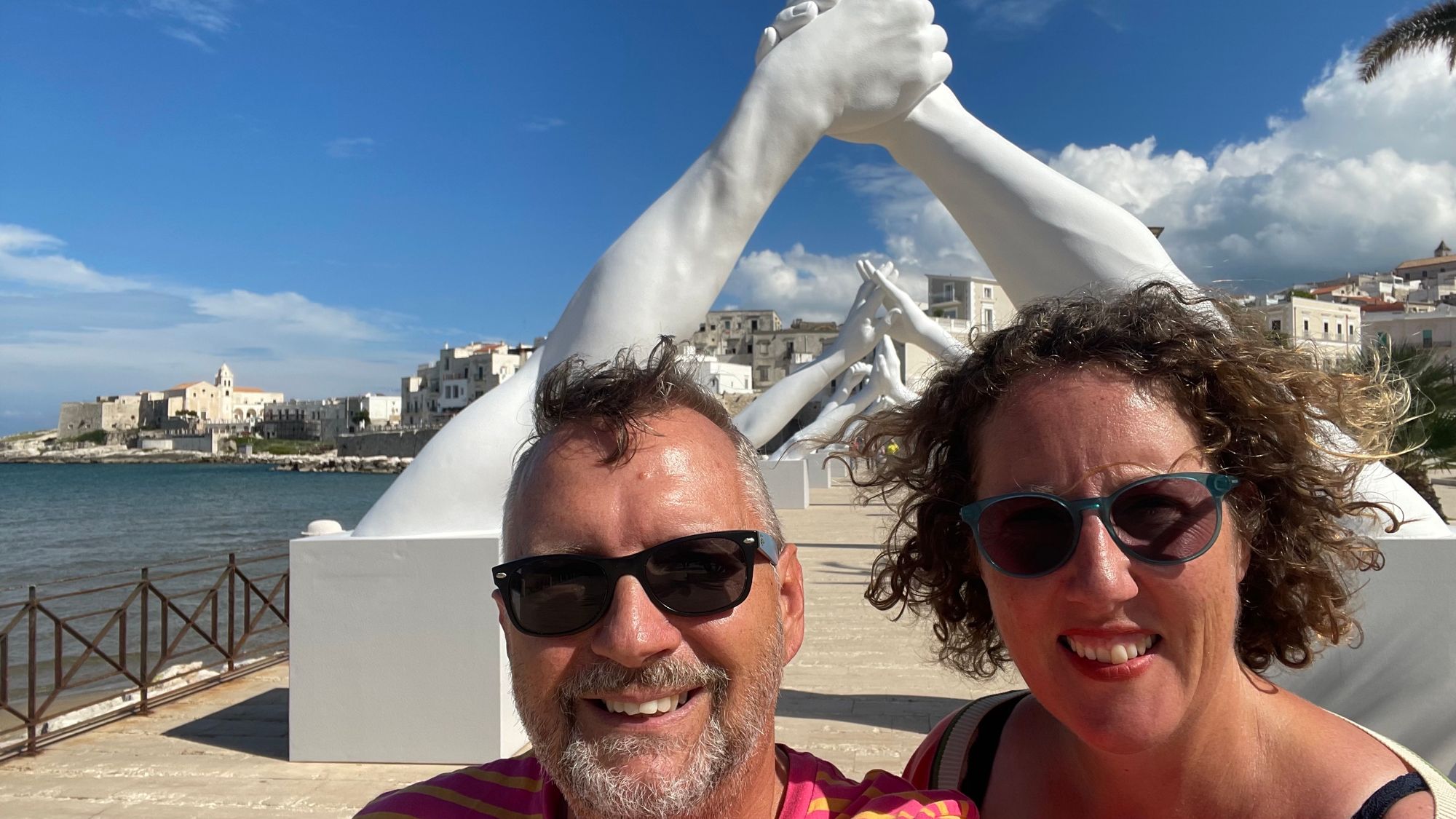 Of course, they didn't let anyone go. They looted, raped, murdered and pillaged and beheaded all the women, children, priests and elderly considered unfit for slavery on the rock, the Chianca Amara. The rock is still there and treated as a shrine to all these murdered people. It's not known how many people were killed, records from 150 years after estimate around 7,000, but modern scholars think that's too high. Nevertheless, a brutal massacre and one that still lives on in memory today, apparently immortalised in local nursery rhymes.
Which is why around here, they built a lot of towers for defence and the villages are all up on hills. Pirates (or the Turks) were not people you took chances with.
Until next time,
Tim & Karina
Where are we now?