Week 149: Friends and the well travelled road.
Lots of catch ups with friends as we head south through the Ionian to Preveza.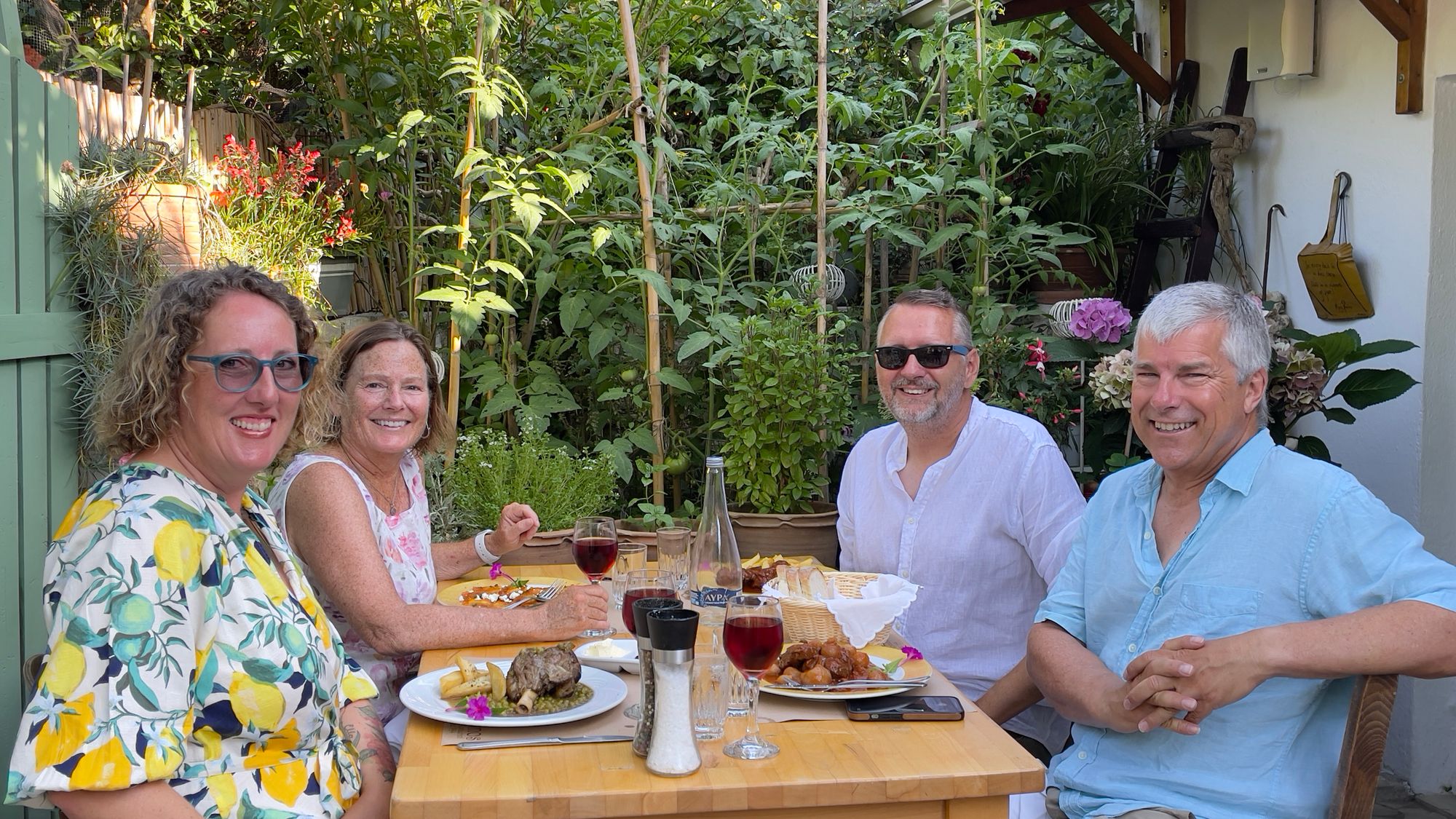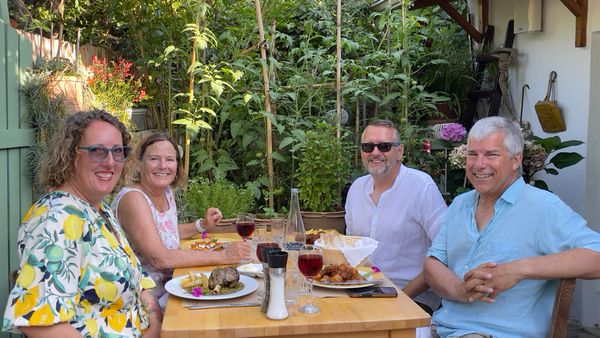 We LOVE being back in Greece. It's the perfect time to be here right now. The weather is warming up, the water is crystal clear and inviting, beckoning you to spend all day drifting in the sea under the blue skies.
After one last swim, we set off Sunday and cruised from Othonoi to Gouvia on Corfu. It's amazing how much more experienced we feel these days. Things which were stressful just seem less of an issue now. We're cruising further, cruising longer and getting MUCH better at picking weather windows. Whereas last year we immediately headed for the coast guard to check in, this year we decided swimming was more important. We know how Greece works and there was no stress about waiting a couple of days until it was convenient for us to complete the check in process.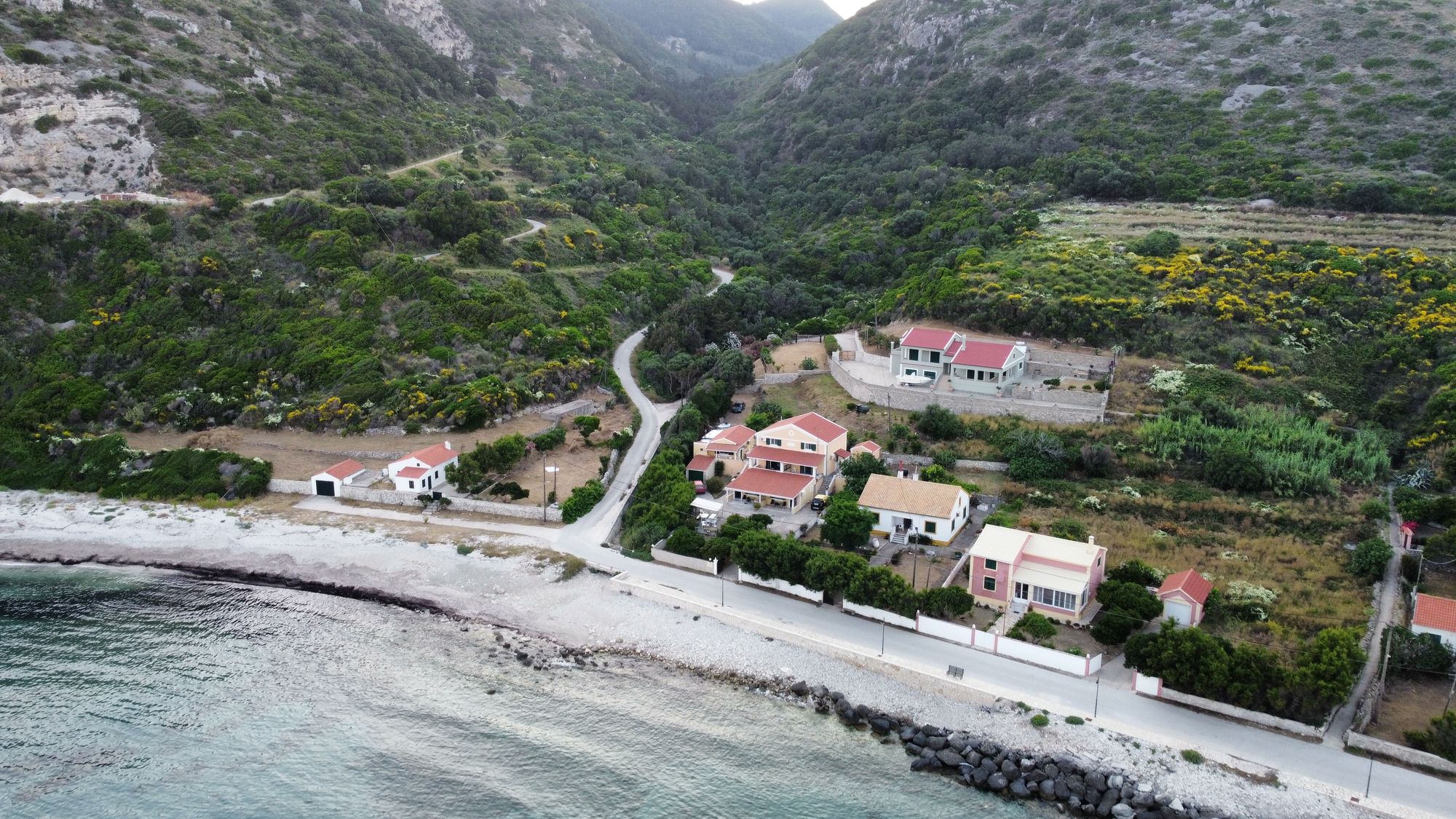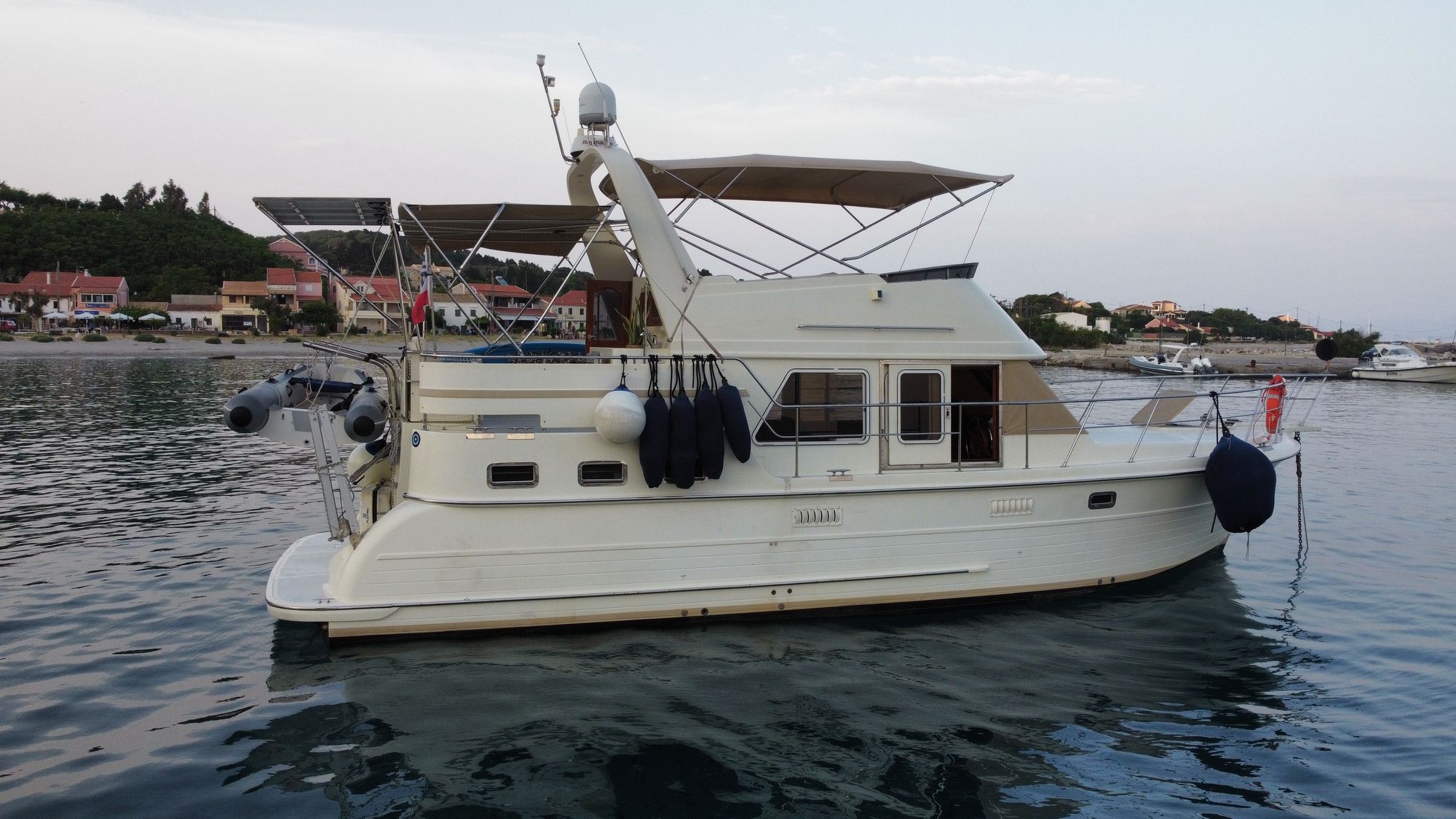 Besides a lovely cruise, the exciting thing about this journey was that we officially "crossed our wake" completing our circuit of the Adriatic. Last September we headed North and now, we're cruising into familiar places as we return South.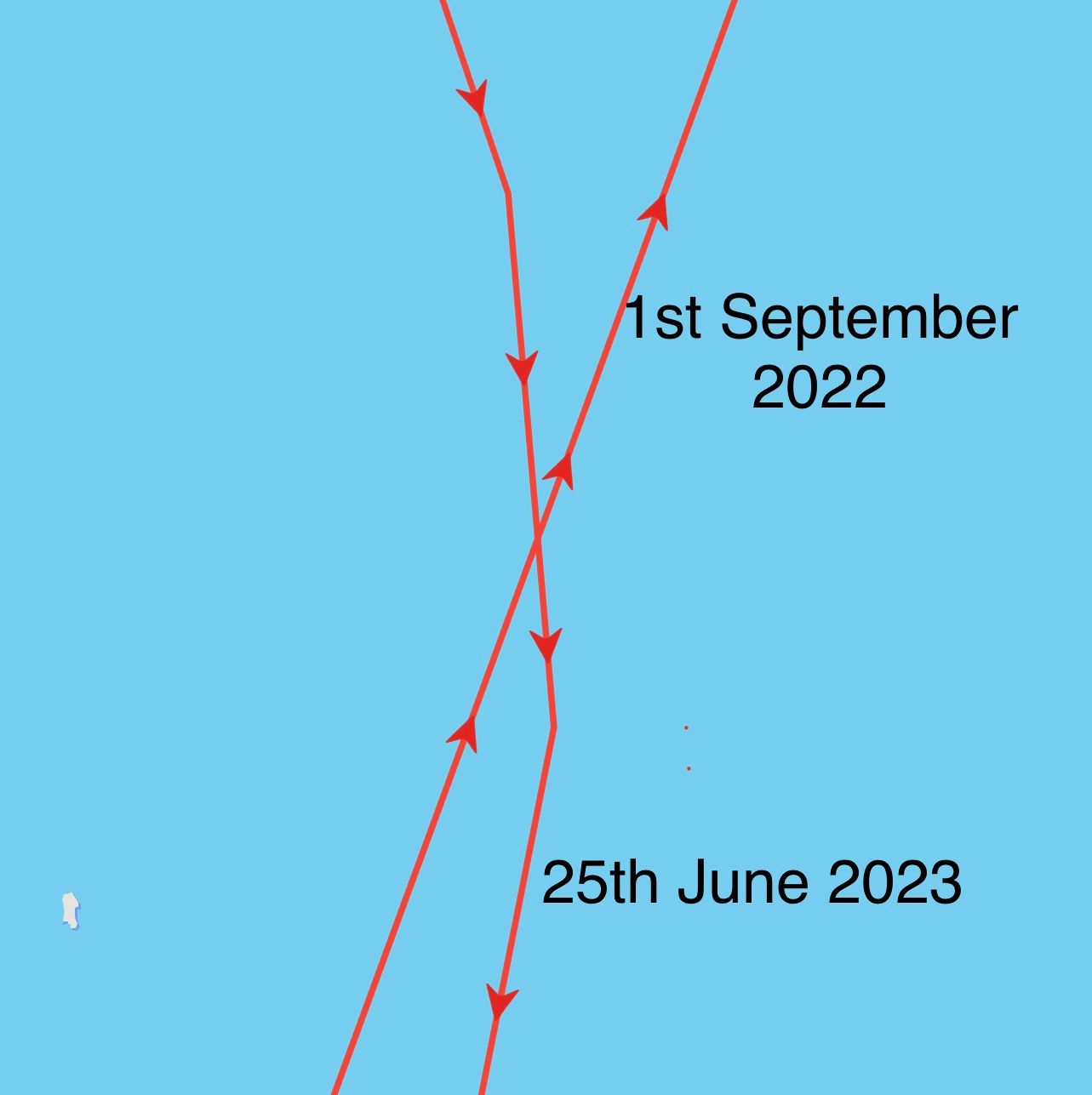 Monday morning we took Tilly the tender in from the anchorage to the Gouvia Marina and completed the formalities, which was nothing more than stamping the crew log given we were already in the EU and on an EU registered boat. Then it was off to the shops. Karina was excited to be back in a supermarket she was familiar with. There's so much that we've found difficult to get in Montenegro and Croatia that was easy once we were here in Greece again. As we were leaving the marina, Karina spotted Rocky Road who were our dock mates in Porto Montenegro and we caught up briefly with David and Stacey before continuing on.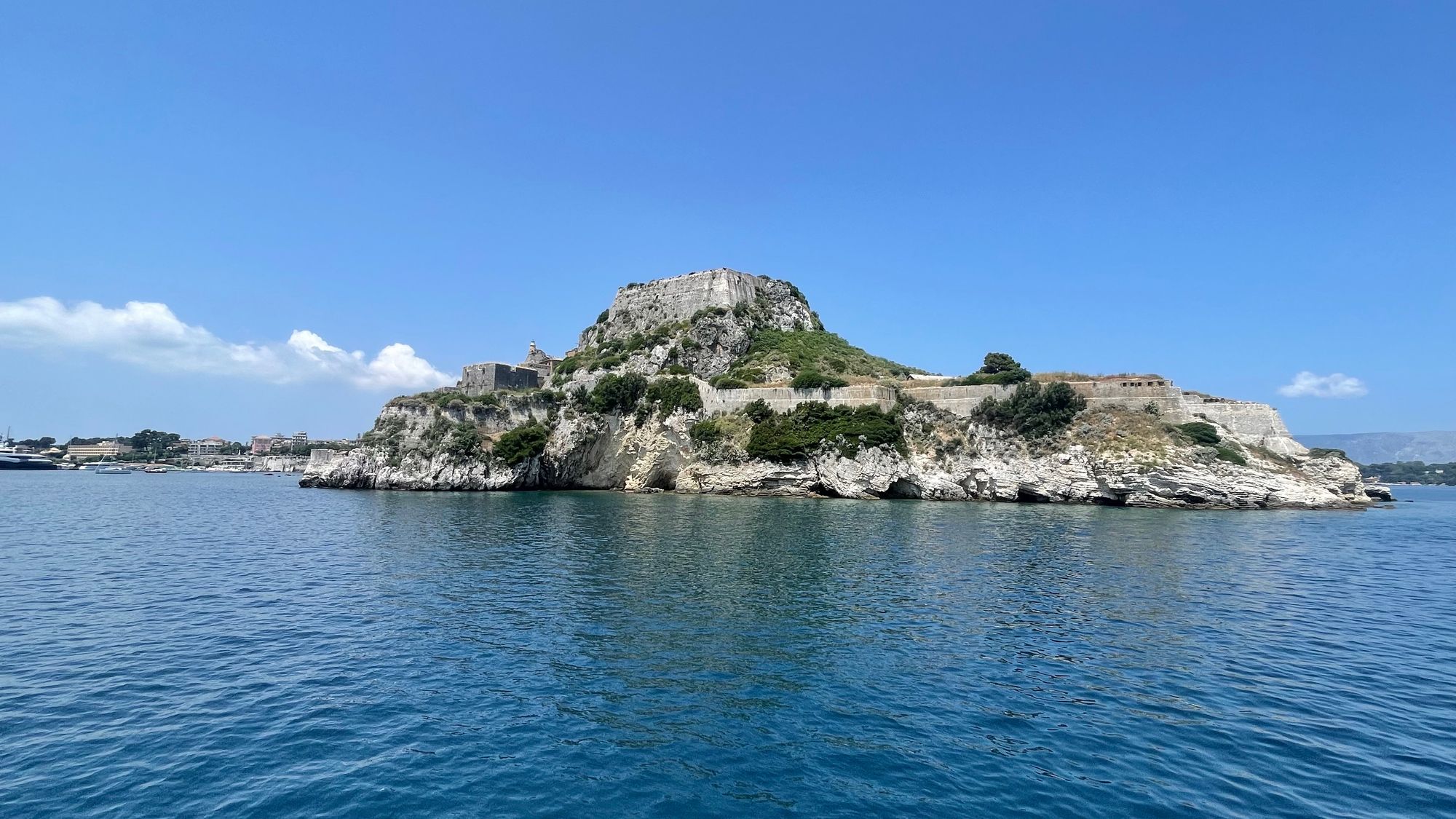 We then headed off to Kerkyra (Corfu City), where I met an agent to collect a new Starlink satellite receiver for Peter and Sarah while Karina wandered off to Marks & Spencers for those essentials you can't get in Greek supermarkets (liquorice all-sorts mostly). We thought about staying there for the night, but it was still early and we felt like cruising some more so we headed down to Petriti at the south end of Corfu.
The next morning it was time to wash Matilda and clean the solar panels. This is a slightly involved job that requires collapsing the rear cockpit bimini (sun shade). When I went to tie it back down again, there was a large ripping sound and the fabric tore. Given that we'd JUST had repairs made a couple of weeks ago, this was even more frustrating. Frankly both bimini's are now approaching end-of-life after 5 years of harsh sunshine conditions, but we would like them to last out this season before biting the bullet and replacing them. I added the repair to the list of jobs for Preveza later this week and we moved forward.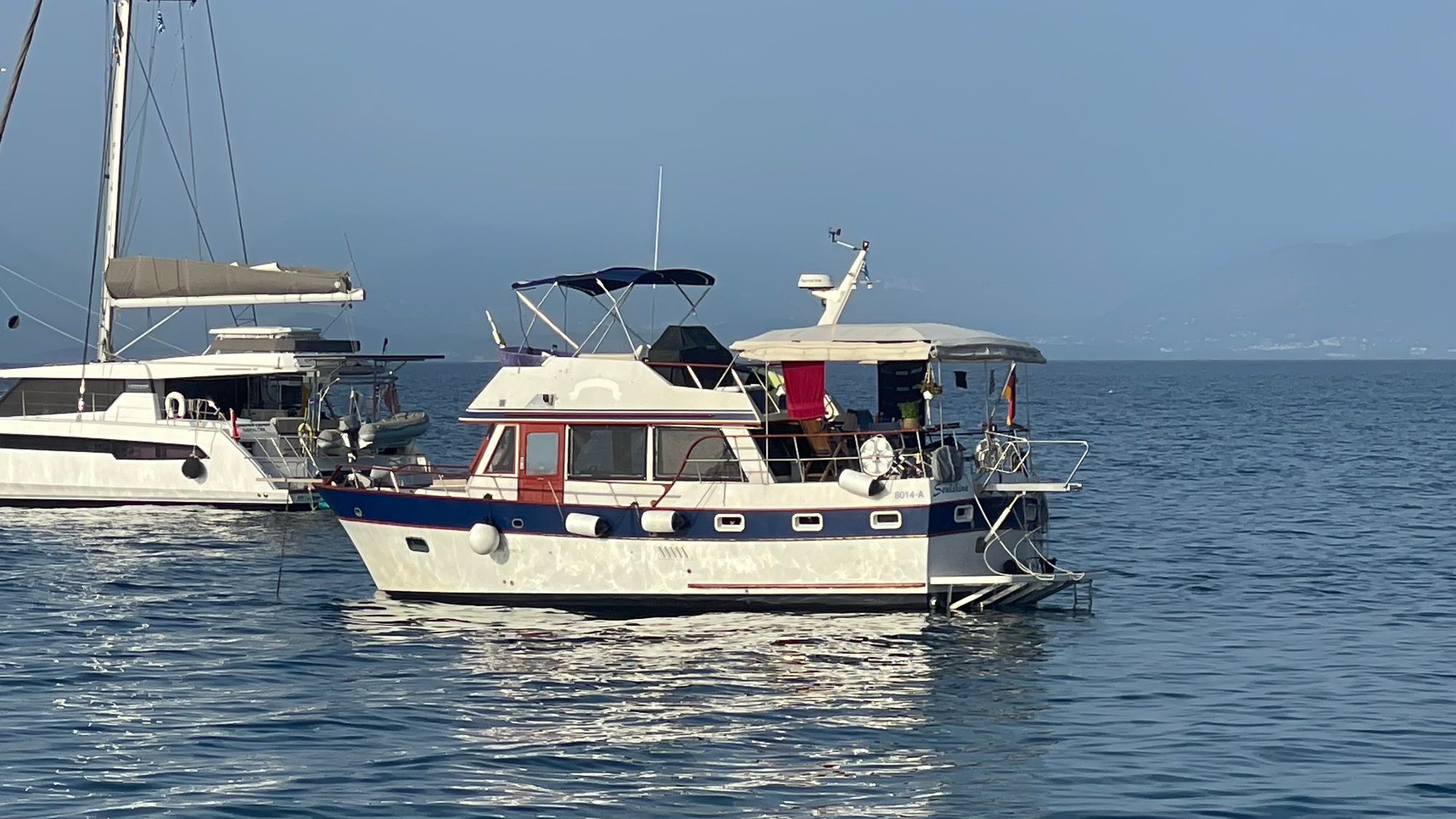 From Petriti it was on down to Lakka on Paxos. This is a renowned anchorage in the Ionian, one we visited last year and didn't quite see all the fuss about it. This time, in great weather with clear blue skies and no wind it was spectacular. Of course the BEST part of it was meeting Sarah and Peter as we arrived. Sarah  was out waving from the back of Flying Fish with Prosecco in hand, while Peter came over on the SUP to guide us to the best spot to anchor. A lovely welcome party!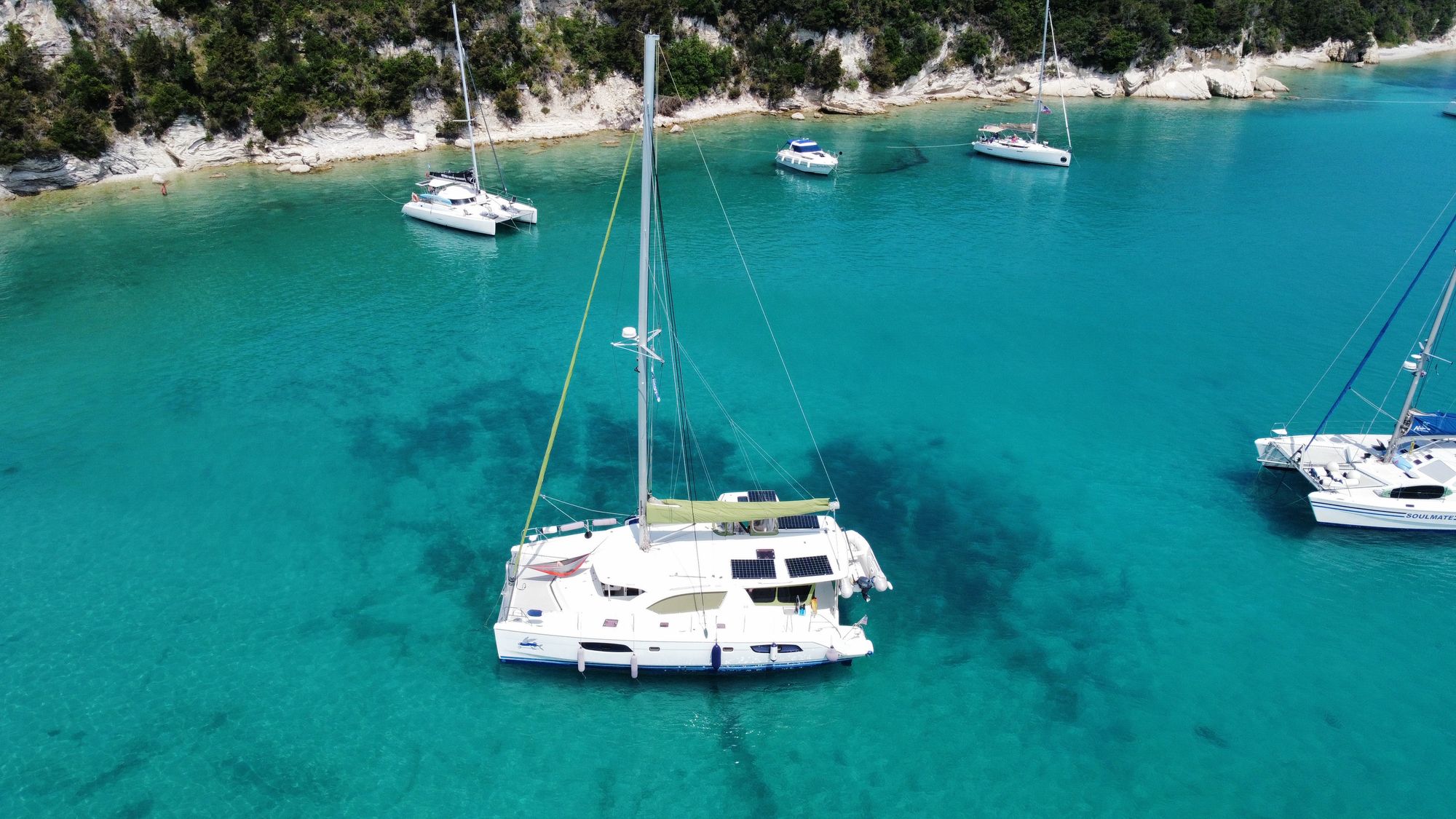 You've probably gathered by now that we have no problems meeting new people when we're in the mood, but there's something extra special about sharing an anchorage with good friends you've got to know and bond with over a shared experience like winter in Montenegro. Pretty much as soon as the anchor hit the sand we were swimming over to say hi and spent a pleasant afternoon chatting and catching up. That night we headed into the town for a dinner at a local restaurant they'd eaten at a few times and had what was probably the best orange cake I've eaten in Greece.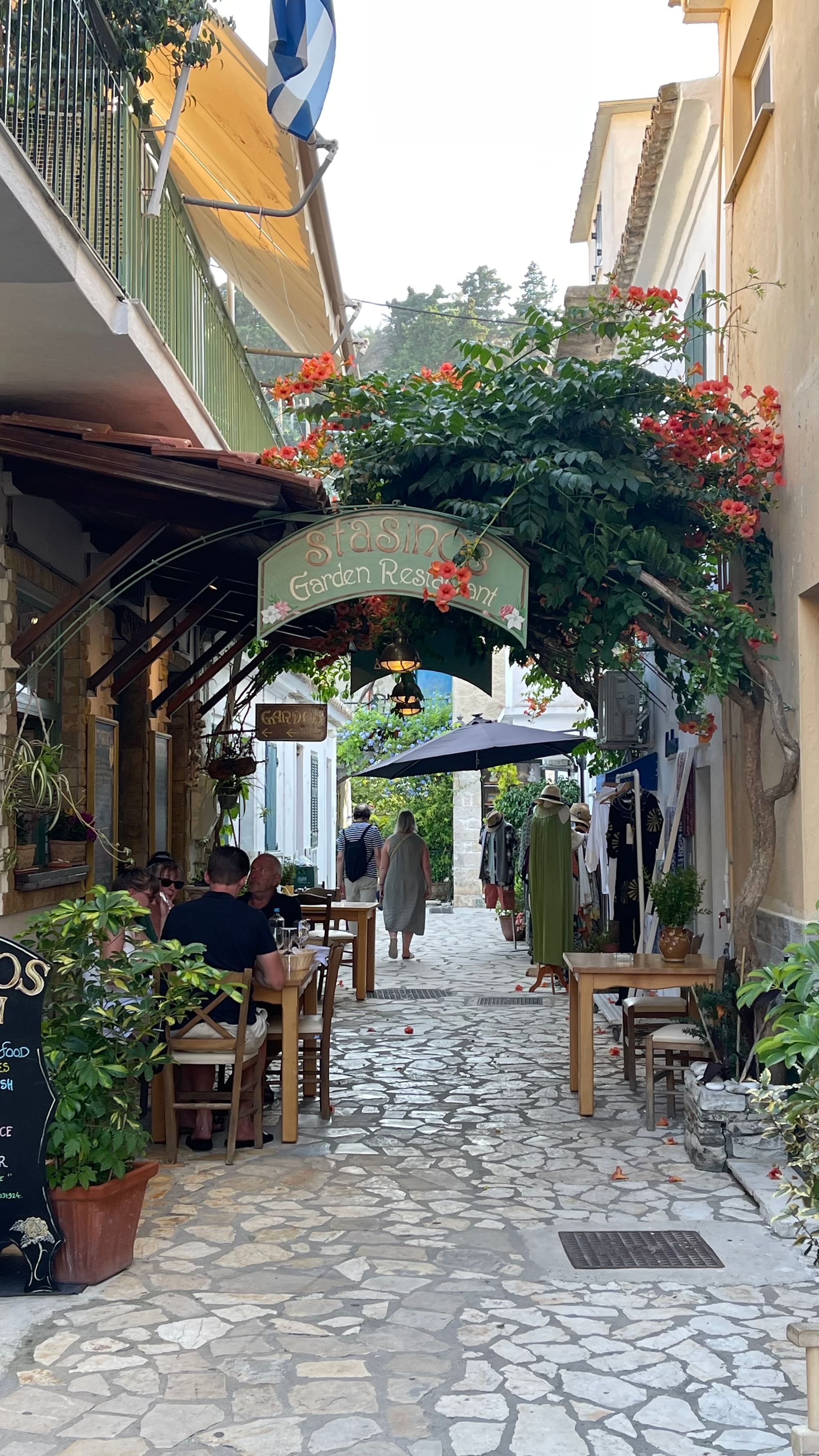 Preveza has been in our sights for a week or so now - it's a large town with good services for boats and lots of great shops. Matilda has been gradually running low on fuel and we figured Preveza was probably the best value place to refill before continuing our way on to the Corinth Canal. We relaxed, and swam on Wednesday morning, shared lunch with Sarah and Peter then waved goodbye as we headed south to Galaxidi, still on Paxos, but positioning ourselves for a crossing to Preveza on Thursday.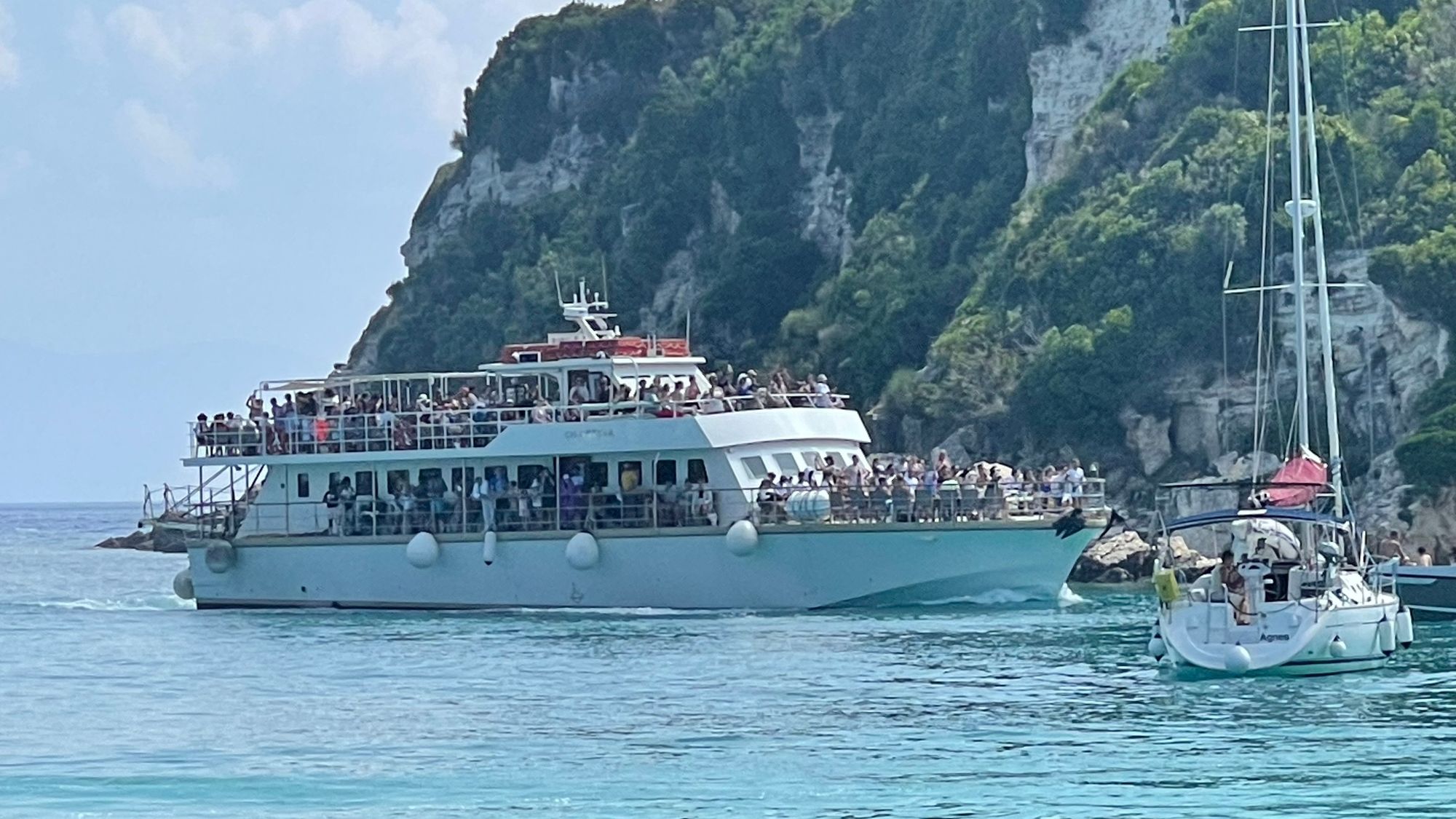 I re-did the sums on our fuel consumption, and by my calculations we needed 1320 litres of Diesel (it would end up being 1370 by the time we reached Preveza). With 1800 capacity, it meant there would be roughly 400 liters, or 200 a tank left by the time we arrived. What was concerning was the fact the both the fuel gauge AND the visual sight gauge showed the tanks were empty. I don't know how much capacity is below the sight gauge, it's clearly SOME, but in the back of my mind is a nagging feeling that we had mis-heard the previous owners. Perhaps we don't have an 1800 liter capacity, but instead it's only 1,600.
We set off, with a plan A, B and C in mind. Confident we'd be OK, but also firmly of the view that we weren't going to leave Preveza until Matilda was full of diesel again! Of course we arrived safely and without drama, and pulled up onto the town quay in Preveza for our first true med-moor (where you drop your anchor in front and back down to the dock) this season.
Seamus and Sandy on Cooinda and Chris and Christine on Stray Kitty were already here, more friends from Porto Montenegro. Karina is firmly of the view we need a collective noun to describe ourselves and has decided "Mont heads" is the correct term. She's trying to make it stick.
Before we joined them aboard Cooinda for drinks, and then ashore for dinner however, we had some chores to arrange. The sailmaker was able to come by and take the bimini for repair and we found the local BP had a tanker and was willing to deliver fuel to the dock for us. This is great as we get "car prices" for diesel (€1.54 vs boat prices of €1.90+ at the boat dock). We also popped into the local vet to make appointments for some vaccinations for Rosie that didn't happen in Italy (because of paperwork, it was easier to wait for here).
After drinks on Cooinda, watching the harbour from the front trampoline of the catamaran, we all headed to a local restaurant. It was a fun meal with lots of tales of the travels and adventures we've experienced since leaving Montenegro.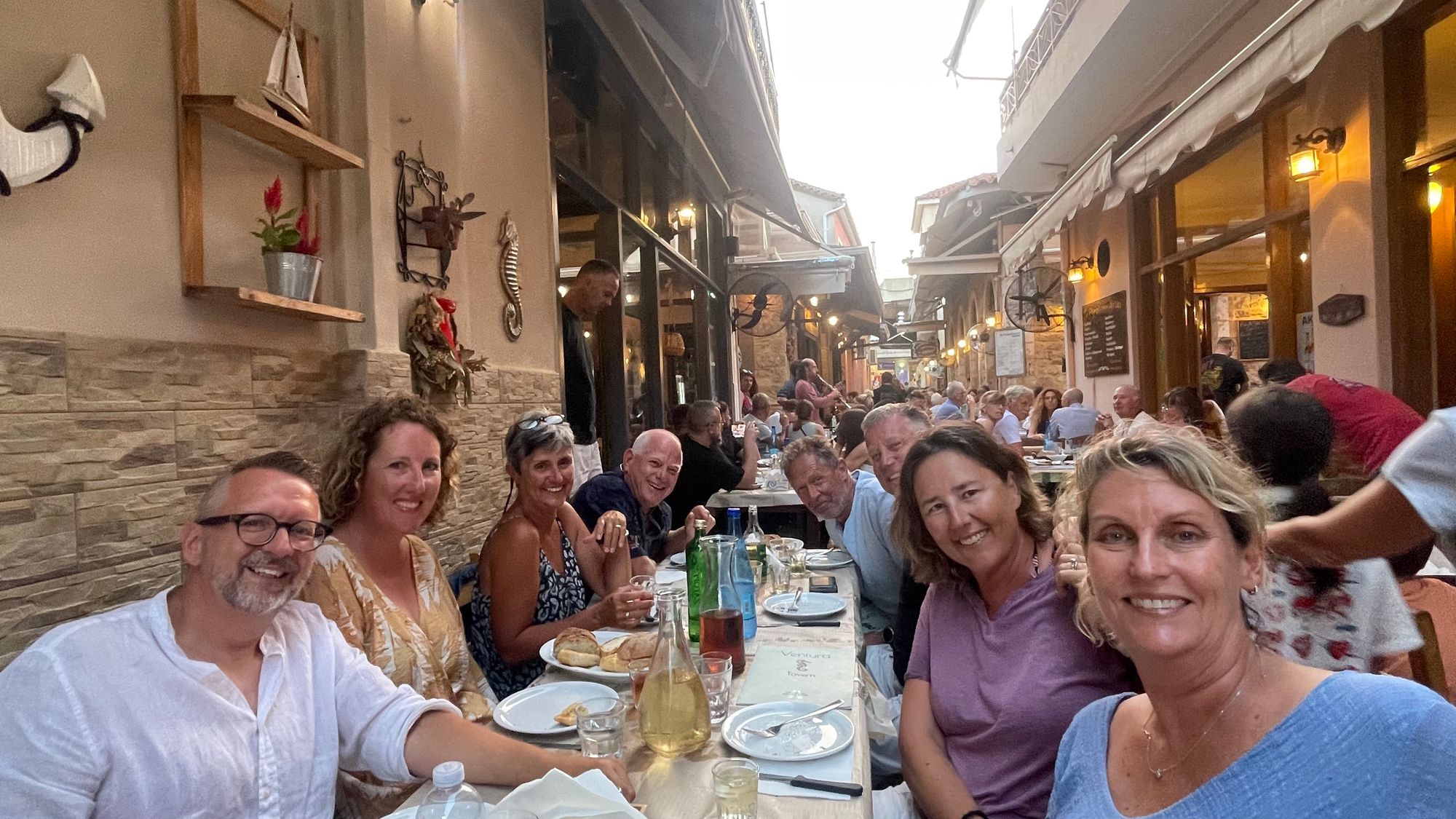 On Friday morning Chris and Christine cooked breakfast for us aboard Stray Kitty, which was a real pleasure. It's lovely getting to spend time on other people's boats and catamarans really are great for socialising on. We had a wonderful morning hanging out, chatting, sharing our knowledge of anchorages in the Saronic Gulf and going for a swim. Then it was back to wait for the bimini to be delivered (which it was, fully repaired again... for now), and for Rosie to get a few shots.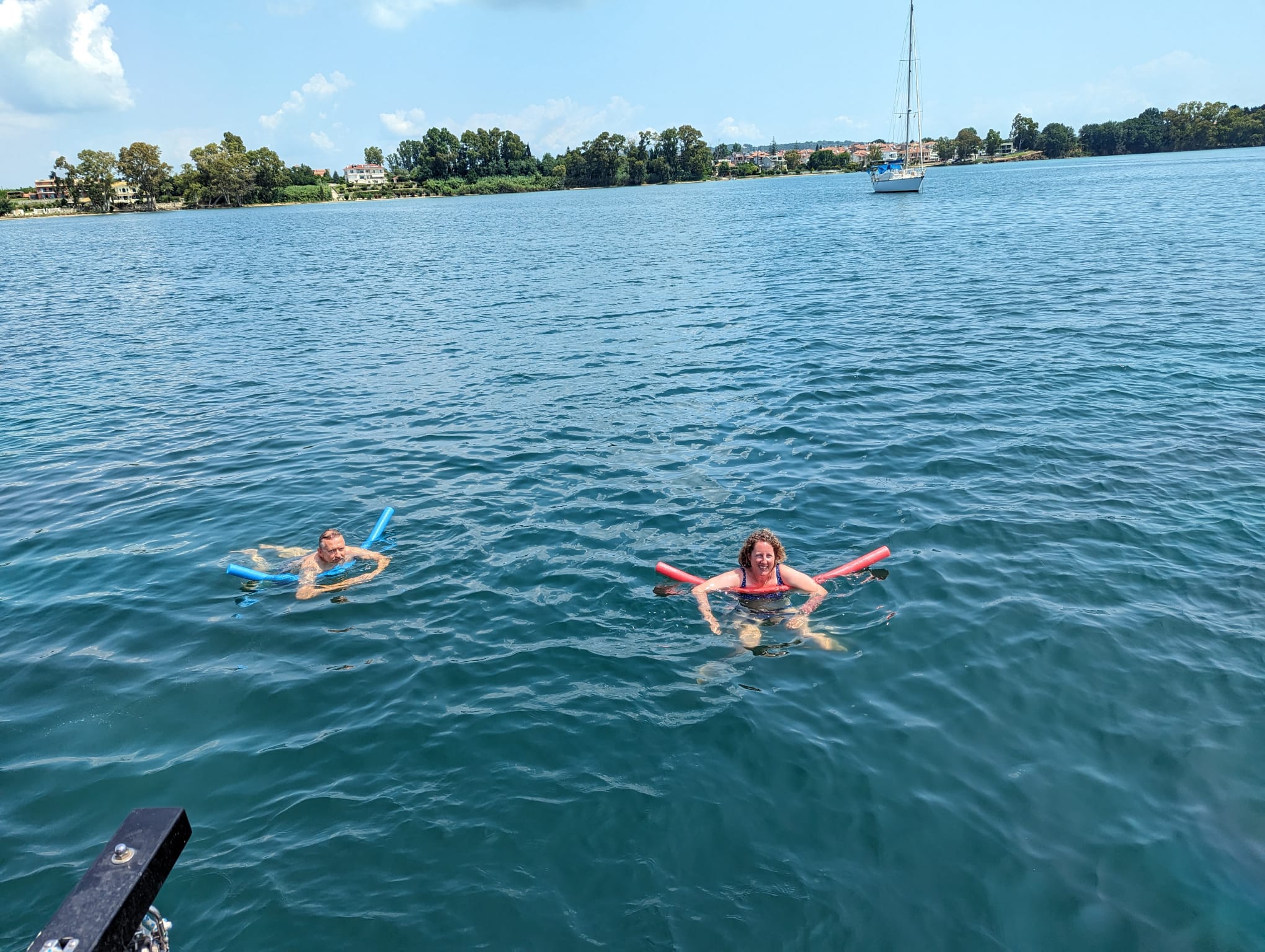 A quiet night aboard on Friday night (despite the popularity of the quay), then Saturday we did a few more chores and visits to the chandlery as well as some shopping. Karina booked in a hair cut and so forth. It's all very mundane stuff, things that you need to be in one place, in a big enough town to make happen.
What's wonderful about Greece is, aside from all the elements of familiarity and the sea and the weather, is that it's a great place to be on a boat! When I went in to pay for our town quay spot, it was €48 for 4 nights including €10 worth of electricity. To extend on Monday for an extra night if we wanted will be €7.50. It's very easy, it's practical and it's cheap. Staying here for a few nights to complete a series of errands is a no brainer.
It all makes sense too - here on the quay, we're surrounded by liveaboards. While Croatia has endless charter yachts, it's Greece where people who live on their boat seem to want to spend the bulk of their time because as an experience, it's so much more affordable and easy to be where the action is with access what you need. In Croatia, there are free anchorages, but to be in the center of it? That costs money. Even Italy (which we adored), was a minimum of €50 a night for a berth, and anchoring wasn't that practical most of the time.
It's a good thing we're somewhere a little cheaper now... being a motor yacht, and especially one that's done some miles, we've used a bit of diesel. I calculated that we'd need 1370 litres (based off the engine consumption log and a guesstimate as to how many litres an hour the generator uses) and we put in exactly 1368 litres to fill the tanks. At €1.54 a litre, that was €2106.72 on fuel... 😳. Still, that's taken us 1.5 months and 780nm from where we last filled up in Umag.
A big chore we completed on Saturday was removing the last of the carpet tiles from the main cabin. They were getting filthy and are hard to keep clean with the dog. Now we're back to the lovely wooden floor similar to the salon in the bedroom. We're going to get a couple of rugs for the floor which will keep it all looking smart while being easy to clean!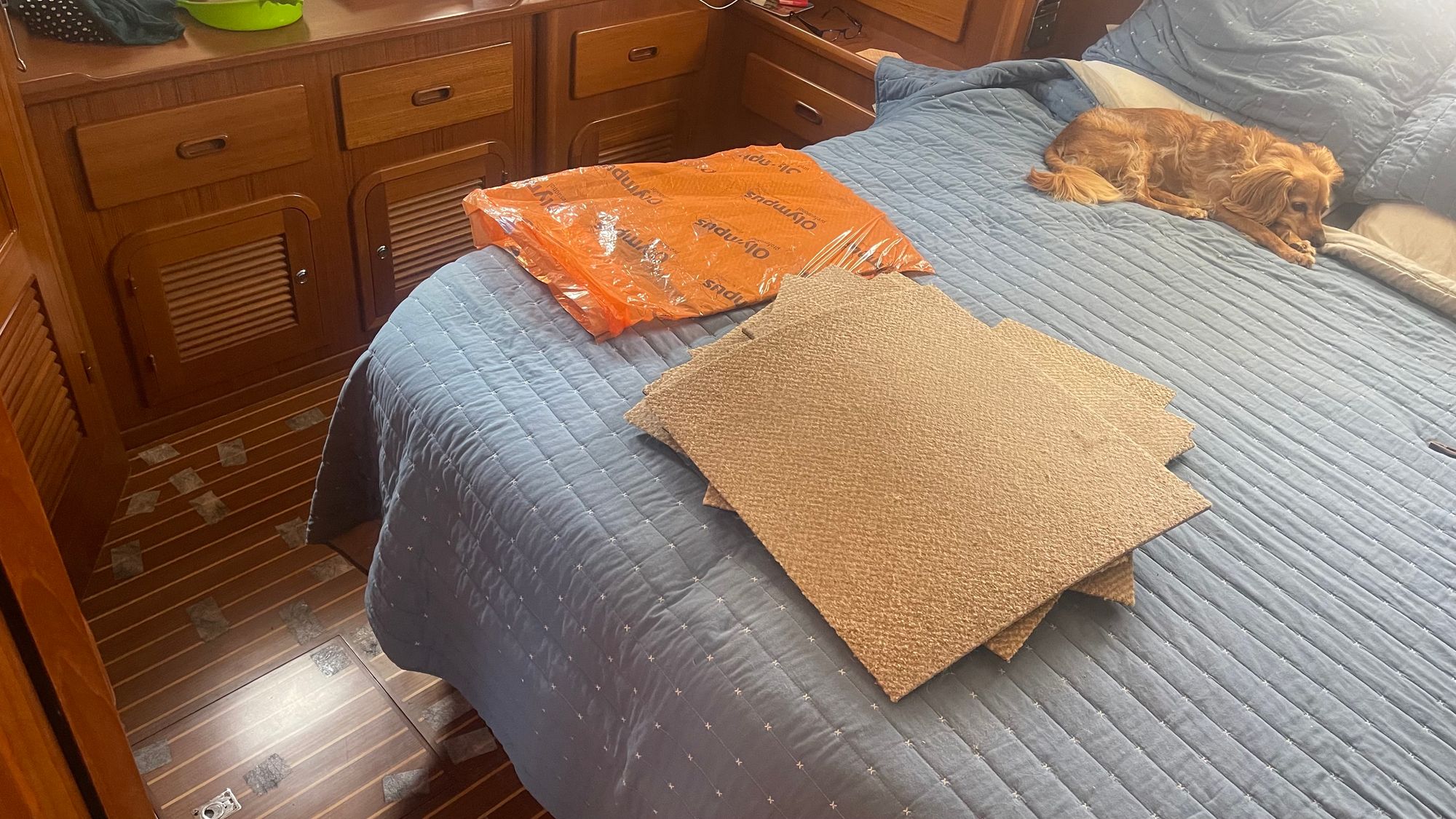 There were final drinks with Seamus and Sandy aboard Cooinda again on Saturday night and today, it's a rest day! We might hit the beach, we'll wander the streets of Preveza some more and wait for Monday when a couple more chores can be knocked off the list (haircut for Karina, haircut for Rosie and more provisioning).
As to the history of Preveza, there's not much left here to see. A few Ottoman/Venetian castle ruins and a few ruins which are part of an old Roman city, Nicopolis about 8 kms North. Its impact on history however is quite surprising. The city of Nicopolis was founded to celebrate the naval victory of the Roman General Octavian over the forces of Marc Antony and Cleopatra just off the coast here. Yes, THAT Cleopatra.
From the medieval period it was largely under the control of the Ottomans, although briefly contested by the Venetians on and off. Heyredin Barbarossa, the Turkish Admiral (note we're back in Ottoman territory here, unlike last week where he was a pirate, now he's an Admiral and hero of the Ottoman empire.) defeated a Venetian fleet off the coast in 1538. The date is still a national holiday in Turkey and apparently there is a tradition of naming some Turkish submarines Preveza.
Eventually it passed to Venetian and then French control, up until 1798 when it was brutally captured by Ali Pasha from Ioaninna – we learnt a lot about him back in Week 45 when we visited there. Ali Pasha ordered the execution of captured solidiers and this, in part, contributed to general unease with the Ottomans that lead the Greeks (led by some of Ali Pasha's commanders) to declare independence in 1821. It wasn't until 1912 that Preveza would itself finally become part of Greece.
For us next week we're continuing forward! South through the Ionian, perhaps chasing down some of our fellow "Mont heads" along the way, and within a week or so – off through the Corinth Canal which will be a grand old adventure. It's hard to believe that we're now almost half way through the cruising season! There's still so much we want to see and do.
Until next time,
Tim & Karina